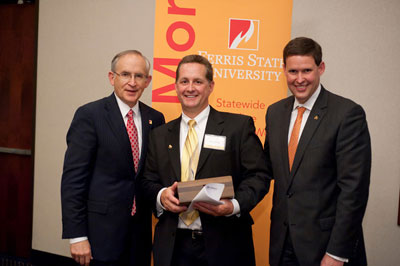 Karl E. Huffman, president of Hedrick Associates in Grand Rapids, has received the Ferris State University Distinguished Alumnus Award.
The Ferris Alumni Association's tradition of recognizing outstanding graduates is an important one, said Jeremy Mishler, director of Alumni Relations.
"This recognition helps to highlight wonderful examples of individual success and fulfillment that our students and fellow graduates can aspire to and be proud of," Mishler said. "It also keeps alumni connected to the university faculty and administration in a way that supports Ferris through their expertise, professional networks and personal philanthropy."
Huffman, who earned associate and bachelor degrees in Heating, Ventilation, Air Conditioning and Refrigeration Technology in 1986, received the award during the Alumni Association's annual spring reunion in May at the Holiday Inn Hotel and Conference Center in Big Rapids.
Huffman, of Grand Rapids, has been deeply involved in professional activities since his days as a student. He served as American Society of Heating, Refrigerating and Air-Conditioning Engineers Ferris Student Chapter president, and has continued to be an ASHRAE member, including serving as regional seminar chairman from 1990 to 1994.
He has maintained close ties to his alma mater. He has been a Ferris alumni supporter for Homecoming and the Ferris HVAC gathering since 1990, and also is an advisory board member for the HVAC program. He is a generous supporter of the university, having established both the Hedrick Associates Ferris HVAC Scholarship and the Huffman Family HVAC Scholarship.
Huffman became a partner of Hedrick Associates in 1992 and rose to be the company's president in 2007. During this time, Hedrick Associates grew from about $1 million in sales in 1986 to $15-$20 million in 2012. In addition, 10 of the company's 16 employees are Ferris graduates.
Karl and his wife, Sandy, have three daughters, Kristin, Rachael and Stephanie.
Ferris' Distinguished Alumni Award is given to alumni who demonstrate leadership and service to their profession, to society by promoting and celebrating diversity, to community and service organizations by promoting health and well-being of its members, and to the university. All Ferris alumni are eligible for the award.
Recipients are chosen by a committee of nine alumni representing the different academic colleges. Since 1961, they have had the challenging task of choosing from the outstanding graduates who have been nominated for our Alumni Association's highest honor – that of being called "Distinguished."