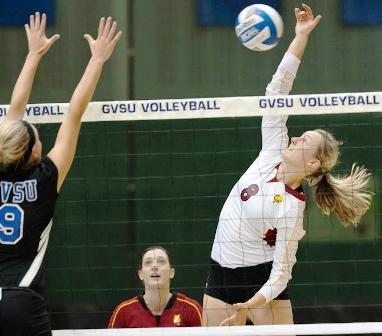 The Ferris State University women's volleyball team has moved up to 11th in this week's American Volleyball Coaches Association (AVCA) Division II National Rankings, which represents the Bulldogs' highest national ranking in more than 20 years.

The Bulldogs jumped six spots from 17th last week in the AVCA's weekly poll released Monday night with 412 points.

This week's listing marks the Bulldogs' highest position in the national rankings since being listed ninth during the 1991 season (Nov. 10).

The Bulldogs are currently 13-1 overall and 9-1 in GLIAC action this season. Ferris has won eight consecutive matches to date and all eight matches in the stretch have been by identical 3-0 scores. Ferris is a perfect 11-0 at home inside the Ewigleben Sports Arena this campaign.

Overall, the Bulldogs are ranked this week for the 87th time in school history and third time this season. This year marks the first time Ferris has been ranked in the top 25 nationally since 2006 (Sept. 5). The Bulldogs were not listed in either this season's preseason ranking or first two regular-season rankings before appearing at 23rd two weeks ago (Sept. 19).

Ferris is only one spot shy this week of cracking the national top 10, which the Bulldogs have done 28 times in school history but not since doing so twice in the 1991 campaign. Ferris' highest national ranking ever is sixth, which last came on Nov. 24, 1987.

Concordia-St. Paul continues to hold down the number one spot in this week's national rankings and is followed by Tampa, Cal-State San Bernardino, Minnesota-Duluth and Washburn (Kan.) in the top five. The Bulldogs are one of three Great Lakes Intercollegiate Athletic Conference member schools in the top 25 this week along with 10th-ranked Hillsdale and No. 25 Northern Michigan.

Ferris' lone loss this campaign was a 3-2 road setback at NMU (Sept. 11), but the Bulldogs did beat Hillsdale 3-0 at home last week (Sept. 24).

Ferris hits the road this week as the Bulldogs travel to Ohio to face Lake Erie on Friday, Oct. 7, at 7 p.m. in Painesville, Ohio. Ferris then visits Ashland on Saturday, Oct. 8, for a 2 p.m. league tilt in Ashland, Ohio.