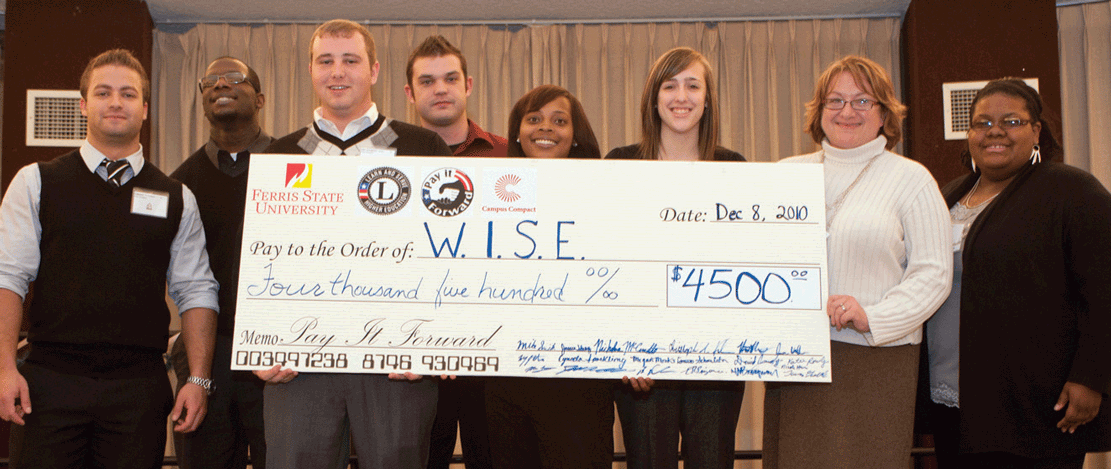 If you want to be a philanthropist, it helps if you're rich. However, being successful at helping others means more than just opening up your wallet. What groups deserve support? If you have limited resources, what are the right criteria for giving? How do you come to consensus on such difficult questions? Ferris faculty members are giving philanthropists-in-training expert insight into the best ways to help others.
Thanks to a Pay It Forward grant from the Corporation for National and Community Service, administered through the Michigan Campus Compact, students in classes taught by faculty members Stephanie Thomson, Communication; Sandy Burns, Dental Hygiene; and Sarah Raymond, Recreation Leadership and Management, learned about community needs, addressed some of those needs and gained important real-world experience in the process. Through the program, each class was given $4,500 to give to as many as three community groups.
Thomson incorporated the service-learning aspect of the grant into her persuasive speaking class in a variety of ways. Students gave speeches and then took votes on which community organizations would get money. They also volunteered with the organizations in order to research the information that they presented to the class regarding potential grant recipients. Across all three classes, students performed volunteer service in everything from office work to cleaning teeth.
According to Thomson, it fundamentally changed the way her students looked at nonprofit community groups and the services they provide.
"There's a lot that different people can give. We want to encourage students not only to give of their time but, when they have the means, to give back to their communities in any way that they can," Thomson says.
During the Fall 2010 Semester, Thomson's students voted to give $4,500 to the local nonprofit group WISE (Women's Information Service), which provides advocacy and support for victims of domestic violence and sexual assault. Four other groups received smaller amounts thanks to the Pay It Forward grant.
As one of Thomson's students put it in her evaluation, "Everyone can be a philanthropist. Time and heart are all it takes, and we all found that through this process."