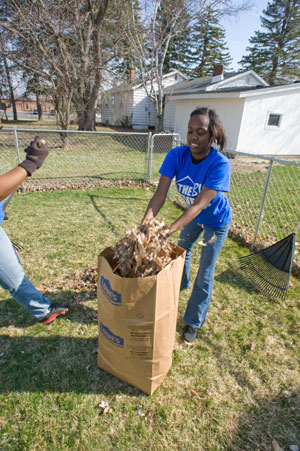 As the snow in Big Rapids slowly begins to fade away, Ferris State University's Student Government organization will not just be sitting around and watching it melt away during spring break.
Members of Student Government will be evaluating homes in Big Rapids in preparation for the fourth annual Big Event, scheduled for Saturday, April 9.
With more than 100 homes already signed up for the Big Event, a community service project, Student Government officials expect participation within the community will be greater than ever. The Ferris student organization hopes to begin the evaluation process for each applying home as the snow begins to melt, beginning as soon as spring break.
"I think being a part of a community service project over spring break gives students a sense of satisfaction in knowing that what they are doing is helping someone else," said Sandra Winchell, student director of the Big Event and a Business major at Ferris.
With the smell of spring in the air and April rolling around the corner, student organizers also will begin to examine the tasks, tools and volunteers needed for each submitted application for the Big Event.
Student Government hopes to assist more than 300 homes this year. That would top last year's total by nearly 100.
"I love being a part of it. It keeps growing every year. Since Big Rapids is a part of Ferris and Ferris is a part of Big Rapids, it shows Big Rapids that we are very appreciative," said Dominic Gallo, assistant student director of the Big Event. "We interact with community and it is a rewarding experience. The response from the community is overwhelming."
Among the activities Student Government members will be preparing for include: washing windows, raking leaves, trimming bushes, sweeping, weeding and small paint jobs. Labor and supplies are provided free of charge with the help of community volunteers.
"I am now in my third year with the event and getting to watch this event grow every year has been amazing," said Winchell, who hopes the Big Event can recruit more than 2,000 student volunteers this year.
Applications for community members to be a part of the event are due Friday, March 11. Student Government will schedule 15-minute evaluations with each house. They hope to have all evaluations completed within a week or two after spring break.
"It is what brings Ferris State University and the Big Rapids community together," Winchell said.
Student Government will be working with the brothers of Sigma Pi to complete the evaluation process.