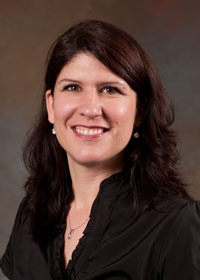 BIG RAPIDS – Andie Wirgau's passion for leadership and learning has led her back to Michigan to join Ferris State University's College of Professional and Technological Studies' staff as coordinator of the Doctorate in Community College Leadership (DCCL) program.
Wirgau, who most recently served as coordinator of student activities at the College of DuPage in Elgin, Ill., envisions Ferris as an opportunity to return to Michigan and make a difference in a program she fully endorses. A Lowell native and graduate of Aquinas College in Grand Rapids, Wirgau has settled in nicely in her role as DCCL coordinator which she began June 14.
"Ferris is a great opportunity because it melds my two passions, leadership and lifelong learning," said Wirgau, who was active in course instruction, budget management, diversity initiatives and more at the College of DuPage. "This job is exciting because I will perform a lot of logistical services for our incoming students, do some recruiting, help with the admissions process, register students and more."
Understanding the challenges for enrollees in the program, Wirgau sees herself as a resource to students adding, "These are adults with busy lives who are pursuing their doctorate. We'll try to remove any barriers to learning and success that we can."
Wirgau says that Ferris hopes to both personalize and ease the experience for working adults who want to pursue a leadership role in community colleges. She wants students to feel as if they are more than just a name or number as they enroll in Ferris' DCCL program.
"I am also providing the human touch and the human contact that some programs lack," said Wirgau, who earned a bachelor's degree in communication from Aquinas; a master's degree in Experiential Leadership from Aurora University in Illinois; and is pursuing her doctoral degree in higher education and organizational change at Benedictine University in Illinois.
Wirgau feels her personal experiences in a community college environment and as a doctoral degree student, ideally position her to transition into her duties at Ferris.
"I come to Ferris with real-world experience in community college administration, and through my own experiences, I can provide that perspective," she said. "Working on my doctorate, I know exactly what students are going through, and I can help our students here at Ferris."
Wirgau sees limitless possibilities for Ferris' DCCL program domestically and perhaps internationally in the future.
"I love the potential that this program and the students will have," she said of a program that will combine courses from Ferris' colleges of Business, Education and Human Services and Arts, Sciences and Education. "This program positions Ferris in another way to be nationally recognized. It also is a major benefit for community colleges throughout the nation. Ferris definitely is on the cutting edge of education with programs like the DCCL."
Mike Cooper, director of the DCCL, believes the program is in good hands with Wirgau on the leadership team.
"Andie has really hit the ground running in a way that has been very impressive," Cooper said. "She has been a quick study and already has become a significant player in the direction of our program in a short period of time this summer."
Approved by Ferris' Board of Trustees in December 2009, the DCCL launched in Summer 2010 and is designed to help train the future leaders of Michigan's 28 community colleges.