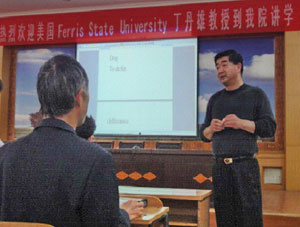 BIG RAPIDS – The Zhengzhou Institute of Aeronautical Industry Management in China conferred upon Daniel Ding of Big Rapids, Ferris State University professor of English, the title of Honorary Professor.
Ding was invited by the institute's department of English chair to conduct a two-week seminar recently on technical writing and help the institute develop its first technical writing course. In recognition of his efforts, the institute conferred him this title. Ding's certificate is signed by institute President Shi Jinfa.
At Ferris, Ding teaches technical communication, composition, business communication and advanced scientific writing. His research interests include multiculturalism in communication, international technical communication, rhetoric and history of scientific and technical communication, and comparative communication.
Having published several works in his research interest areas, Ding also conducts seminars on technical communication and writing theories abroad. He taught technical communication for one semester in 2008 at China's Zhengzhou University while on sabbatical leave.
Ding received his Bachelor of Arts from Shanghai Institute of Foreign Languages, Master of Arts from California State University and Ph.D. from Illinois State University. He has been employed at Ferris since 1998.