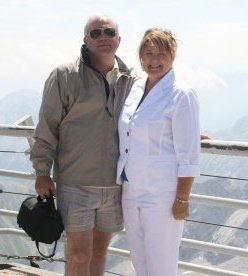 BIG RAPIDS – Hoping to provide education in addition to furthering her own, Ferris State University's Dr. Marietta Bell-Scriber will cross continental borders and cultural boundaries to teach in the Republic of Cyprus as a Fulbright Scholar.
Bell-Scriber, professor of Nursing, Michigan Master's in Nursing Program coordinator and Ferris graduate, was awarded a Fulbright Scholar grant to teach at the University of Nicosia and Near East University. She will leave for the Eurasian island-country this September for a nine-month stay.
"I knew for some time that I wanted to apply for a Fulbright Scholarship," Bell-Scriber said. "Every March, they post a list on their Web site of the different countries and grants you can apply for; I'd wanted to apply for a teaching grant, and I knew that I'd wanted to go to an institution that wanted a nursing instructor. Cyprus is a great fit – it has both these components, it's wonderfully situated and has a wonderful location to experience a variety of culture."
Having traveled abroad in the past to teach nursing courses in Finland, Bell-Scriber esteems and embraces the importance of understanding the cultures of other groups of people. Coupling this with a passion for teaching that developed during her 40-year span of practicing in the nursing field, Bell-Scriber hopes to do more than impart her knowledge to others – she hopes to gain some herself.
"It's not just about me bestowing my knowledge to them," Bell-Scriber explained. "Cyprus is a divided country; 80 percent of the island is Greek and the rest is Turkish occupation. The political state of the island creates a unique opportunity to learn from the cultures of the country, which is what the Fulbright is all about: the host country learns from the scholar and what he or she brings, and the scholar learns from the country they visit."
Because the country is divided, Bell-Scriber will teach in two settings. She will teach students at the University of Nicosia on the Greek side and to public health nurses on the Turkish side, focusing on family nursing theory and practice.
"The way they teach is very different from the way we teach, and I hope to learn from that – I want to bring back ideas to use here and to give them ideas that they can use there," she added.
Bell-Scriber is one of approximately 1,100 United States faculty and professionals who will travel abroad through the Fulbright U.S. Scholar Program during 2010-11.The Fulbright Program is the flagship international educational exchange program sponsored by the U.S. government and is designed to increase mutual understanding between the people of the U.S. and the people of other countries.
Recipients of Fulbright grants are selected on the basis of academic or professional achievement, as well as demonstrated leadership potential in their fields.
"I've been reading and reading about the country, the culture, the people and using the last eight months to prepare. I'm excited; this is an international scholar exchange – a mutual exchange of ideas, respect and learning," Bell-Scriber concluded.