B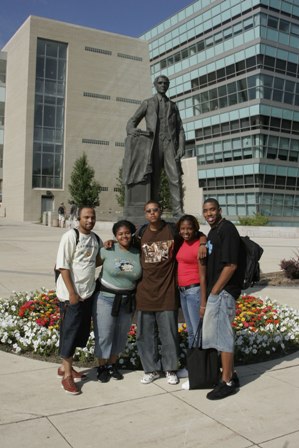 IG RAPIDS – Ferris State University's Chief Diversity Officer David Pilgrim presented an annual assessment of progress toward achieving goals outlined in the University's diversity plan to the Board of Trustees today (April 9).
Pilgrim characterized Ferris as "excellent" in advancing its goal of creating an environment that is positive for diverse populations; "above average" in recruiting, retaining and graduating a diverse student population; and "slightly above average" in creating environments for student learning that are inclusive of and sensitive to diverse student populations. Efforts to hire and retain a diverse workforce were rated "below average."
"We are aggressively recruiting students from racial and ethnic groups," said Pilgrim, who has served as CDO in the Office of Diversity and Inclusion at Ferris since January 2007. "Diversity and inclusion-related programming is increasing in frequency and quality, and this programming is, in two words, more diverse."
The assessment notes that in the past year, enrollments by African Americans increased 5.3 percent; Hispanics, 14.3 percent; and Native Americans, 15.7 percent. Pilgrim interprets these numbers as indicators that "the Ferris student body is more diverse today than it was in 2006."
The creation of the International Center and the positive work of the Tuition Incentive Program office and Faculty Center for Teaching and Learning were cited by Pilgrim as points of pride for the University in its efforts to strengthen diversity among the student body.
The report calls attention to 93 FSU courses that are classified as "Global Consciousness Courses," and 82 that are categorized as "Race, Ethnicity and/or Gender Courses." However, it was recommended that a diversity audit of the content of general education courses be conducted and support provided for the FCTL's Inclusive Classroom Initiative which is designed to strengthen the mission of the diversity plan in Ferris classrooms.
The University's ability to hire and retain a diverse workforce continues to be a concern, according to Pilgrim. "Ferris is not doing as well as its peer institutions in this area, and we must continue to make this a top University priority."
Suggestions for diversifying the Ferris workforce include creating a University-wide taskforce, co-chaired by Pilgrim and Fritz Erickson, provost and vice president for Academic Affairs, to address this issue; identifying strategies to position Ferris as a welcoming environment; working with search committees to create larger applicant pools; and developing an "inclusion advocates" training program for employees.