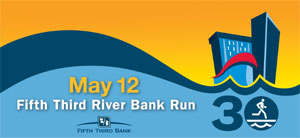 BIG RAPIDS – For the fifth consecutive year, the Fifth Third River Bank Run partnered with senior students enrolled in the Graphic Design program at Ferris to design the billboard campaign and T-shirt designs for both the new 15K Training Run on April 21 and the 30th running of the event on May 12.
Students involved in the Fifth Third River Bank Run project are Joshua Lovell, Farmington Hills; Kate Webb, Rockford; Jamey Ross, Loveland, Colo.; Roxi Bockheim, Grand Rapids; and Mike Rose, Sault Ste. Marie. The designers worked under the creative direction of Linda Powell and Alison Stone, professors in the Graphic Design program.
"We started in September and did it all from start to finish," said Webb. "The project is a great real-world experience. You are working with an actual client that has real needs that have to be met. It will be rewarding to see our work on billboards and T-shirts, too."
The group brainstormed and sketched designs together when they started the project. Then, they each adopted an idea they liked and worked on developing it further. Once all of their designs were finished, they again worked as a group to create the final presentation.
"In their Design Application class, senior students work in teams on real projects," said Powell, associate professor. "Working on the Fifth Third River Bank Run project provides practical design business experience including meeting with the client and vendors, project management, and pre-production experience. The result is professionally-designed and produced work for their senior portfolios, which proves to be extremely important to prospective employers. A project like this shows they can work within given criteria and meet deadlines."
Added, Kristen Aidif, race director, Fifth Third River Bank Run, "It has been extremely exciting to involve students from Ferris State University in Fifth Third River Bank Run advertising and communication elements during the past five years. The group we have had the opportunity to work with for the 30th anniversary package has been incredibly professional and creative."