College of Pharmacy Degree Programs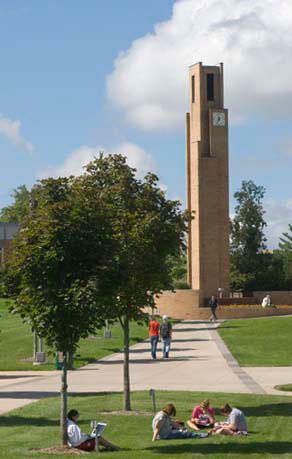 Pharmacy Degrees
The College of Pharmacy prepares its students to be capable of professional growth with the ability to contribute to the profession of Pharmacy and to a constantly changing global society. The College of Pharmacy is committed to maintaining an optimal academic environment through faculty development, an active service component, encouraging scholarly activity, and resource development.
College of Pharmacy Doctorate Degree Pharmacy Academic Requirements: In addition to the specific courses identified in the pharmacy curriculum, college pharmacy students must: (a) complete six (6) semester hours of pharmacy professional electives; and (b) comply with Ferris' general education requirements.
The first four semesters of the college pharmacy degree program are taught on the Big Rapids, Michigan campus. The fifth and sixth semesters are taught either in Kalamazoo Michigan or Grand Rapids Michigan. The final two semesters of the pharmacy degree program are completed in a variety of pharmacy sites throughout the state of Michigan, with most being held in the Grand Rapids, Kalamazoo and Lansing metropolitan areas.
The Michigan College of Pharmacy at Ferris State University has an accelerated degree option that requires college pharmacy students to attend class during two years rather than four years with no summer coursework.
The College of Pharmacy at Ferris State provides a comprehensive educational experience to carefully selected, highly motivated college pharmacy students that prepare them to competently deliver pharmaceutical care in the practice setting of their choice. The College of Pharmacy also fosters the development of college pharmacy certificate programs that reflect contemporary pharmacy practice. Pharmacy students at Ferris State utilize faculty training, knowledge, and expertise as a means of increasing the well being of other individuals and groups in our society. The FSU College of Pharmacy contributes to the body of pharmaceutical, medical, and/or education knowledge through scholarly activity and research by both faculty and students. Our college pharmacy degree programs help foster the personal and professional growth of each faculty member as they meet the demands of both a dynamic curriculum and profession to gain support and acquire resources for the college of pharmacy by developing and maintaining key relationships with pharmaceutical industry, professional pharmacy industry associations, alumni, and friends.
If you would like more information on Pharmacy Degrees at Ferris State University call (231) 591-2000.