Bachelors Degree Manufacturing Engineering Technology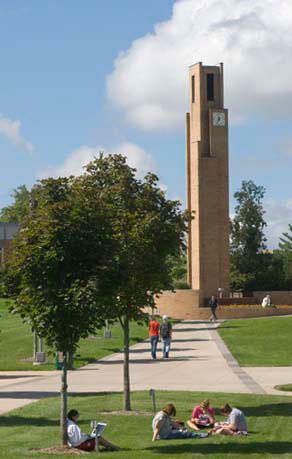 Why Major in Manufacturing Engineering Technology?
Did you used to drive your parents up the wall by taking things apart 'just to see how they were put together'? (Or do you still do this?) If so, Manufacturing Engineering Technology may be the program for you! Simply put, manufacturing engineers figure out how to make products - anything from tools to toys, cars to consumer goods, electronics to earthmovers.
Good manufacturing engineers can determine how to make their company's products better, faster, safer and less expensive than competitors can. These abilities are always in demand, and the Manufacturing Engineering Technology program at Ferris State University gives you the skills to command an excellent starting salary. You'll also get to work with state-of-the-art computers and equipment while you're here, plus get more valuable team and project experience than almost anywhere else.
Advance Your Career with a Manufacturing Engineering Technology Degree
Ferris State University college students learn to identify and select materials based on production requirements and work closely with computer-aided design equipment (CAD/CAM). They conduct time studies, complete costs estimates, utilize computer software to aid in solving manufacturing problems, formulate plant layout requirements, understand management control systems, justify and select quality equipment and automated systems and design a total product manufacturing system. Manufacturing Engineering Technology students also receive on-the-job experience through an internship education program.
Manufacturing Engineering Technology College Graduates
Get Great Jobs
Manufacturing engineers get involved on the ground level of the production of a variety of industrial and consumer goods and develop the expertise to see production through to completion. Their knowledge of process design, analysis, planning, supervision, manufacturing methods and equipment is used from start to finish. The location of every machine, the movement of each tool or part, the order of operation and the selection of the machines themselves are all decisions that manufacturing engineers make as part of the total production process.
Employment opportunities for Manufacturing Engineering Technology graduates are found across the entire spectrum of manufacturing industries. Specific entry-level positions include manufacturing engineer, process engineer, production engineer, tool engineer, industrial engineer and quality engineer. Manufacturing Engineering Technology graduates of this program enjoy excellent placement and starting salaries averaging more than $50,000.
Manufacturing Engineering Technology Bachelor's Degree
Admission Requirements
Manufacturing Engineering Technology students entering the Manufacturing Engineering Technology program must have completed a two-year program at Ferris in CAD Drafting and Tool Design Technology, Manufacturing Technology, Mechanical Engineering Technology, Plastics Technology, Rubber Technology or Welding Technology. An A.A.S. degree in a manufacturing-based technology from another institution or 60 semester hours of college work including general courses, technical courses and technical-related courses is acceptable. Manufacturing Engineering Technology students must have at least a 2.75 GPA in their A.A.S. major courses and a 2.5 cumulative GPA.
College Degree Manufacturing Engineering Technology
Graduation Requirements
The Manufacturing Engineering Technology program at Ferris leads to a bachelor of science degree. Graduation requires a minimum 2.0 GPA in core classes, in the major and overall. Manufacturing Engineering Technology students must complete all general education requirements as outlined on the General Education Web site.
If you would like more information on College Manufacturing Engineering Technology Bachelor Degree Programs at Ferris State University call (231) 591-2000.
About Ferris State University: College classes including our Manufacturing Engineering Technology degree program, are taught at all levels by professional teachers, not graduate assistants. College students that major in Manufacturing Engineering Technology at Ferris State University study in more than 170 different college educational programs - including doctorate degrees, masters degrees, bachelors degree Manufacturing Engineering Technology and associate degree Manufacturing Technology programs.

More than 180 educational programs - including doctorates, master's, bachelor's and associate degrees - are offered through the colleges of Arts and Sciences, Business, Education and Human Services, Engineering Technology, Health Professions, Optometry, Pharmacy, and Kendall College of Art and Design.

Ferris State University offers a wide variety of scholarships and financial aid. A majority of our students receive financial aid assistance. We encourage you to explore this website for more information on available scholarships and financial aid opportunities at Ferris State University. Ferris State provides all enrolled students access to a variety of academic skill-building opportunities that will assist them in their pursuit of academic excellence in a format that accommodates various learning preferences and schedules. At FSU students experience small classes with individual attention in 170 career-oriented majors leading to job placement for our graduates. FSU students also enjoy 220 student organizations for fun in a relaxed, hometown setting in the heart of Michigan's recreation area.

The group presentation, by one of our admissions recruiters, includes information on academic offerings, scholarships, housing, student life, and costs. A question and answer period follows the presentation and includes a few surprises! Lunch is provided at one of our well known dining facilities on campus. After lunch, guests may take part in a walking tour of campus led by one of our exceptional student guides. The walking tour takes approximately 1 hour.

If you would like more information on Manufacturing Engineering Technology Degree or would like to talk with or visit our campus in Big Rapids, Michigan contact us.

To Learn More About Ferris State University click here for the Mission Statement.