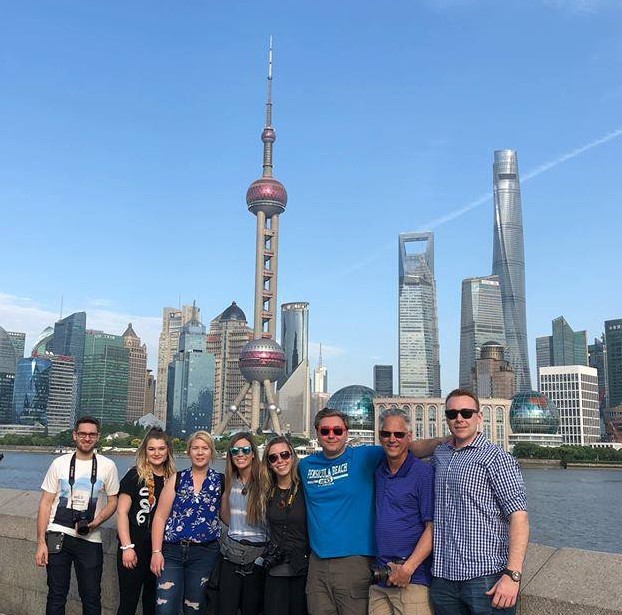 Short-term programs usually range from two to four weeks, and you can earn three to six credits. These programs are academic classes led by professors who conduct the international program. Learn how to start an application here.
Join us for a Study Abroad Workshop every Friday at 1:00 in IRC 134 to learn more about the programs, travel planning, and the application process. If you are unable to attend a workshop, contact us to set up an appointment with an advisor. Call 231-591-2450, email [email protected], or please stop in to the OIE in IRC 134.
Join our mailing list here.
Summer 2020 programs are listed here.
Summer 2019 Programs Listing:
Country
Faculty
Course(s)
Dates

China, Shanghai - Printing and Publishing College

Dr. David Marion

Dr. Alex Cartwright

Dr. Tim Brotherton

Dr. Donna Smith

MGMT370 - Quality Operations Management

ECON222 - Principles of Microeconomics

MKT290 - Marketing Elective in China

COMM365 - Intercultural Communication

May 13 - June 13, 2019

China, Shandong - College of Arts, Sciences and Education

Dr. Liza Ing

Dr. Brady Flachs

EDCD 308 Teaching Student with Special Needs and Diverse Populations

EDUC 415 Teaching Students with Special Needs and Diverse Populations

EDUC 508 Instruction of Exceptional Learners

May 18- June 15, 2019

Costa Rica

Professor Ana Davila-Howard

Dr. Eric Warner

SPAN100 - Spanish for Business and Travel

SPAN333 - Contemporary Culture and Society of Hispanic America

May 12 - June 5, 2019

El Salvador

Professor Michael Berghoef
SWCK380: International Social Work

May 20- June 2, 2019

Haiti

Dr. Rita Walters

SCWK390 - International Engagement in Haiti

June 7- June 16, 2019

Italy

Professor John Caserta

Dr. Chris Westerkamp

Dr. Nate Garrelts

LANG100 - Italian for Business and Travel

LITR241 - World Short Fiction

LITR243 - Literature and Film

BIO290 - Mediterranean Lifestyle

English 321 Advanced Composition

May 11- May 24, 2019

Martinique

Dr. Dan Noren

FREN331 - French Culture

FREN280 - Francophone Literature in Translation

May 12 - May 24, 2019

Scotland

Professor John Caserta

Professor Aaron Waltz

LITR241 - World Short Fiction

LITR243 - Literature and Film

PGMG 390 Global Golf and Tourism

July 26- Aug 8, 2019