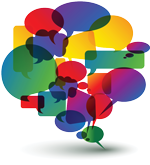 What is MyPLACE?
MyPLACE (My Program for Language and Culture Exchange) is a unique conversation partner program that matches international students enrolled in the West Michigan English Language Institute (WMELI) with American Partners who are Ferris State University students and native speakers of English for group conversation and project-based activities. MyPLACE is part of the listening and speaking course curriculum.
Current Ferris students who are interested in becoming American Partners and earning scholarship funds for Study Abroad click here.
How does MyPLACE help students learn English?
MyPLACE gives students a chance to have conversation practice with native English speakers in a friendly group setting. MyPLACE helps students to:
Practice English with native speakers four hours each week in small groups.
Learn about American culture and university life.
Learn how to work collaboratively in groups.
Gain confidence talking to native speakers.
Use English outside of the classroom in a variety of activities.
Complete longer projects such as: interviews, videos, presentations, etc.
What types of projects will students do?
Students will complete 3-4 projects each semester. These projects change each semester. Examples of projects include: presentations, interviews, videos, participating in events, and conducting surveys.