Ferris State University HVAC School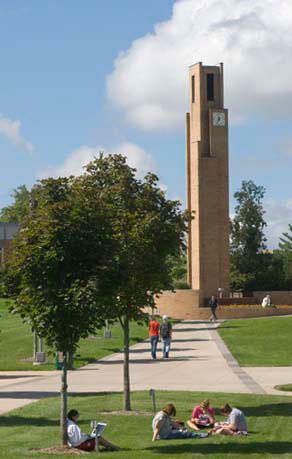 Fully Accredited HVAC School
The HVAC School at Ferris State University is fully accredited and is considered among the leading HVAC Schools in America. The HVAC Program allows college students to combine the principles of heating, ventilation, air conditioning and refrigeration with hands-on laboratory experience. Students apply knowledge of HVAC systems in the lab, gaining an understanding of how to systematically test, troubleshoot, repair and maintain electrical and mechanical residential and commercial HVACR systems and components.
HVAC programs at Ferris identify changes in the industry and prepare students for multiple avenues of focus including opportunities for technicians to advance their career in the use microcomputers for data processing and system control. Demand is also spurred by the expansion in the production, storage, and marketing of food an other perishables and a growing emphasis on energy cost and use, resulting in renovation and conversion of existing heating and air conditioning systems. HVAC trade school classes provide the tools necessary to earn an HVAC Associate degree or for continuation toward an HVAC bachelors degree or an immediate career in HVACR technology.
A Degree from our HVAC School Puts Students on Path to Earning a Bachelors
Ferris HVAC programs allow students to gain extensive HVAC school training while also earning credit toward a Bachelors Degree in any of nearly 20 other Ferris science degree programs, including business administration, computer information systems, television production, and HVACR engineering technology.
HVAC School Equates to Gainful Employment
HVAC technicians are in demand. Graduates of a Ferris HVAC program are at an advantage with plenty of jobs from which to choose with starting salaries averaging $37,000 per year. Most students are able to secure employment prior to graduation.
Graduates of a Ferris HVAC Training School may find work in multiple facets of the industry, including:
HVAC Service
HVAC Manufacturing
HVAC Laboratory Testing
HVAC Sales
HVAC Design
HVAC School Admission Requirements
Admission to the College of Engineering Technology is open to high school graduates who demonstrate academic preparedness, maturity and seriousness of purpose with backgrounds appropriate to their chosen program of studies. Among first-time students in our technical programs, the average high school GPA is 2.8, and the average ACT composite score is 20.
HVAC School Graduation Requirements
The HVACR Technology program and HVAC trade school courses at Ferris lead to an associate in applied science degree. Graduation requires a minimum 2.0 GPA in the major and overall. Students must complete all general education requirements as outlined on the General Education website.
If you would like more information on the HVAC School at Ferris State University call (231) 591-2000.
More About the HVAC School at Ferris State University: An HVAC degree program courses, including our Bachelors in HVACR Engineering Technology Degree, are taught at all levels by professional teachers, not graduate assistants. College students at Ferris State University, including our HVAC degree students, are able to extend their studies in more than 170 different college educational programs – beyond Ferris State's Michigan HVAC degree programs.

Ferris State University offers a wide variety of scholarships and financial aid. A majority of our college students receive financial aid assistance. We encourage you to explore this website for more information on available scholarships and financial aid opportunities at Ferris State University. Ferris State provides all enrolled students access to a variety of academic skill-building opportunities that will assist them in their pursuit of academic excellence in a format that accommodates various learning preferences and schedules. At FSU students experience small classes with individual attention in 170 career-oriented majors leading to job placement for our graduates. FSU students also enjoy 220 student organizations for fun in a relaxed, hometown setting in the heart of Michigan's recreation area.

The group presentation, by one of our admissions recruiters, includes information on academic offerings, scholarships, housing, student life, and costs. A question and answer period follows the presentation and includes a few surprises! Lunch is provided at one of our well known dining facilities on campus. After lunch, guests may take part in a walking tour of campus led by one of our exceptional student guides. The walking tour takes approximately one hour.

If you would like more information on the Ferris State HVAC degree program or would like to talk with or visit our campus in Big Rapids, Michigan contact us.

To Learn More About Ferris State University click here for the Mission Statement.

Ferris State University prepares students for successful careers, responsible citizenship, and lifelong learning. Through its many partnerships and its career-oriented, broad-based education, Ferris serves our rapidly changing global economy and society.

Ferris State University is the recognized leader in integrative education, where theory meets practice throughout the curriculum, and where multi-disciplinary skills important in a global economy are developed with the result that Ferris State University will also be the preferred choice for HVAC degree and college students who seek specialized, innovative, career and life-enhancing education. FSU is the premier educational partner for government, communities, agencies, businesses, and industries through applied research and joint ventures. Ferris State offers a stimulating, student-centered academic environment that fosters life-long engagement, leadership, citizenship, and continuing intellectual development.

Michigan's Top HVAC School - Promotes Core Values

Ferris State's HVAC degree program contributes to the advancement of society by building partnerships with HVAC degree program students, alumni, business and industry, government bodies, accrediting agencies, and the communities the University serves. By providing a Michigan college campus which is supportive, safe, and welcoming, Ferris State embraces a diversity of ideas, beliefs, and cultures. Ferris State recognizes the inherent dignity of each member of the University community and treats everyone with respect. FSU is committed to innovation and creativity, Ferris State strives to produce the highest quality outcomes in all its endeavours. Ferris State University values college education that is career-oriented, balances theory and practice, develops critical thinking, emphasizes active learning, and fosters responsibility and the desire for the lifelong pursuit of knowledge. The HVAC degree program at FSU keeps a focus on developing career skills and knowledge, providing opportunities for civic engagement, leadership development, career advancement, and success.