Philanthropy Spotlight:
Kendall College of Art and Design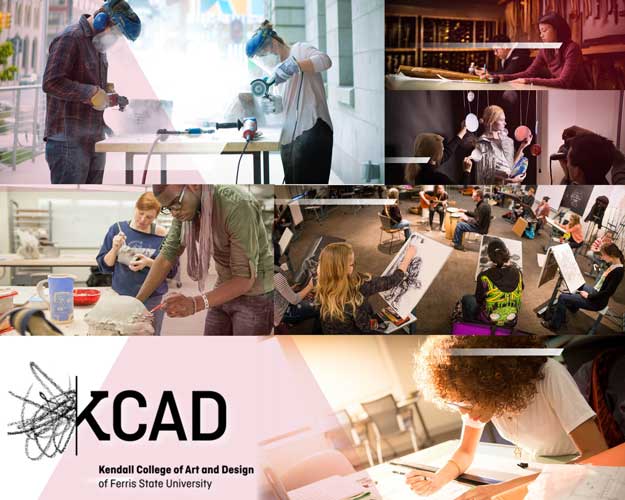 For over 90 years, Kendall College of Art and Design of Ferris State University (KCAD) has worked tirelessly to fulfill the mission set out by its founder, Helen M. Kendall, wife of furniture design legend David Wolcott Kendall, the college's namesake. As an innovator in art and design education, KCAD's vision is to cultivate a student-centered learning community that fuels the regional economy with creative leaders and critical thinkers with global perspectives. As a college within Ferris, KCAD prepares students for leadership in design, the visual arts, and art history; provides innovative, collaborative education that fosters intellectual growth and individual creativity; and promotes the ethical and civic responsibilities of artists and designers, locally and globally.
KCAD's specialized undergraduate degree programs in design, fine art, and art history transform creative passion into a marketable skill set, and from there, a career. Like many college students everywhere, Kendall students face financial barriers to their education. 81% of students at KCAD receive some form of institutional or Federal financial assistance. Currently, thanks to the support of KCAD alumni, friends and employees, 31 scholarships are available to award to qualified students, alleviating some of the student loan debt that may hinder a student's path following graduation. To expand that support across the college, part of KCAD's vision for the future is to double the number of scholarships available for students.
Now is an incredible time to be part of that vision: through June of 2023, all gifts to the KCAD General Scholarship Fund will be matched dollar-per-dollar through the Ferris Futures Scholarship Challenge, doubling the impact of your support. Help make a difference in the lives of these visionary students by supporting KCAD today. Make a gift by texting KCAD to 41444 or by clicking here.
To learn more about Kendall College of Art and Design of Ferris State University, visit them online at kcad.ferris.edu or follow them on Facebook, Instagram, Twitter, or LinkedIn.
---

Monthly Giving: a simple way to have an ongoing impact on student success
Looking for a way to include a gift to FSU in your budget? Consider setting up a monthly gift. Giving even as little as $10 each month is easy and convenient: you can pay with a credit card and have your donation automatically come out of your account with your bills every month. It's like your phone bill. Or your electricity. Or Netflix.

You choose where you would like your gift to go, with the knowledge that you are providing regular and predictable support to our students, and helping departments and programs to better plan for their coming year while developing innovative new programming and scholarships for the students who need them most.
You will also become a part of an exclusive group of people committed to making a positive difference on our campus, in our communities and in the lives of our students all year long: Bulldog Champions.
Joining the Bulldog Champions Monthly Giving Club is simple and automatic and helps to ensure we have sufficient funding for innovative new programming and scholarships for students who need them most. Make a gift to wherever you want to make the most impact by visiting ferris.edu/give-now. It's easy and you can cancel at any time.
For more information, call (231) 349-1822 or email [email protected] today.
Go Bulldogs!