Doctorate Degree Pharmacy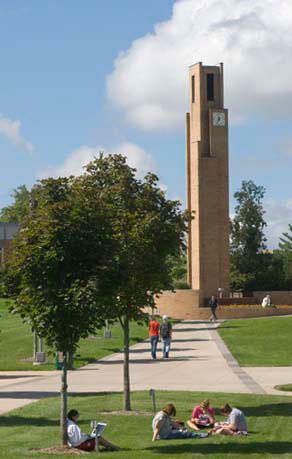 Why Major Pharmacy?
Over one-half of the pharmacists practicing in Michigan are graduates of Ferris. Graduates are well prepared for the North American Pharmacists Licensure Examination (NAPLEX), which is required for licensure in Michigan and most other states. Ferris offers a six-year program leading to a doctor of pharmacy (Pharm.D.) degree. The entering-level program operates on a 2-4 format. Pre-Pharmacy is two years with the last four years spent in the professional program provided by the College of Pharmacy.
At Ferris, Pre-Pharmacy is offered through the College of Arts and Sciences. Transfer guides are available for most of the state's colleges and universities. Pre-Pharmacy subjects include general biology, microbiology, general and organic chemistry, calculus, statistics, economics, English, communication skills, psychology or sociology, and cultural enrichment. All course work designated as pre-pharmacy must be completed in order to finalize admission. Prospective students should familiarize themselves with the University's General Education Guidelines.
Advance Your Career with a Pharmacy Degree
The College of Pharmacy at Ferris State University is recognized by the Michigan Board of Pharmacy and is accredited by the American Council of Pharmaceutical Education, the national accrediting agency for all colleges of pharmacy. Ferris is a member of the American Association of Colleges of Pharmacy.
Pharmacy College Graduates Get Great Jobs
Since its inception in 1893, the College of Pharmacy has adapted its programming to meet the challenges and complex demands of an ever-changing profession. Current emphasis is on clinical practice and the provision of pharmaceutical care to ensure that the patient's drug therapy is appropriate, safe, effective for the condition being treated and cost-effective. Graduates of the College will be prepared to deliver pharmaceutical care to patients in a wide range of practice settings. Some of the many fields of specialization open to the pharmacist include:
Community pharmacy - most pharmacists are engaged in this type of professional practice in either independently owned or chain pharmacies.
Hospital pharmacy - this field offers a variety of assignments in support of physicians, nurses and other members of the health care team in dealing with the medication needs of patients.
Industrial pharmacy - opportunities include those related to production, quality control, research, administration and sales promotion.
Included also are the medical service representatives needed to keep physicians, dentists and pharmacists informed of new developments. Other career options include home health care, long-term care, nuclear pharmacy, public health, law and various areas of pharmacy education and specialization. Currently, there is a shortage of pharmacist around the state and the country. Most graduates have very little problem securing employment, with many having multiple offers. Recent long-term projections indicate that this shortage will only get worse as the population ages.
Pharmacy Doctorate Degree Admission Requirements
Admission to the College of Pharmacy at Ferris State University entry-level programs is highly competitive and is granted to the best qualified applicants on a space available basis. Priority is determined using a formula based primarily on academic performance and Pharmacy College Admission Test (PCAT) scores. Although the minimum acceptable cumulative GPA obtained in pre-pharmacy is 2.5, the average of successful applicants is much higher. The Pre-Pharmacy program can be taken at Ferris or at any other accredited college or university.
College Degree Pharmacy Graduation Requirements
The College of Pharmacy at Ferris State grants the doctor of pharmacy degree. Graduation requirements for the Pharm.D. degree include completion of all work outlined in the Pharm.D. curriculum, a cumulative GPA of at least 2.0 and recommendation for the degree by the faculty of the College of Pharmacy based on academic performance and ethical and professional standards.
If you would like more information on Pharmacy Doctorate Programs at Ferris State University call (231) 591-2000.
About Ferris State University: College classes including our Doctor of Pharmacy Program, are taught at all levels by professional teachers, not graduate assistants. College students at Ferris State University, including our Doctor of Pharmacy students, study in more than 170 different college educational programs which include many doctorate degrees, masters degrees, bachelor's degrees and associate degree program.

Ferris State University offers a wide variety of scholarships and financial aid. A majority of our students receive financial aid assistance. We encourage you to explore this website for more information on available scholarships and financial aid opportunities at Ferris State University. Ferris State provides all enrolled students access to a variety of academic skill-building opportunities that will assist them in their pursuit of academic excellence in a format that accommodates various learning preferences and schedules. At FSU students experience small classes with individual attention in 170 career-oriented majors leading to job placement for our graduates. FSU students also enjoy 220 student organizations for fun in a relaxed, hometown setting in the heart of Michigan's recreation area.

The group presentation, by one of our admissions recruiters, includes information on academic offerings, scholarships, housing, student life, and costs. A question and answer period follows the presentation and includes a few surprises! Lunch is provided at one of our well known dining facilities on campus. After lunch, guests may take part in a walking tour of campus led by one of our exceptional student guides. The walking tour takes approximately 1 hour.

If you would like more information on Pharmacy Degree or would like to talk with or visit our campus in Big Rapids, Michigan contact us.

To Learn More About Ferris State University click here for the Mission Statement.