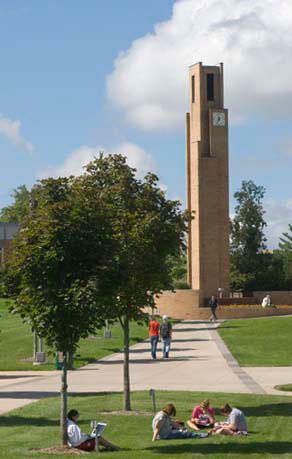 Why Major in HVAC?
The Heating, Ventilation, Air Conditioning and Refrigeration (HVACR) Engineering Technology curriculum is a two-year, upper-division sequence leading to a bachelor of science degree in HVAC. Instruction is aimed at developing expertise in HVAC system and HVAC controls design, HVAC retrofitting, HVAC testing and adjusting, system balancing and building HVAC operations with microcomputer controls.
College HVAC students learn up-to-date methods of identifying and performing efficiency evaluations on different types of heating, ventilation and air conditioning systems found in commercial and industrial buildings. College HVAC degree program also teaches methods of adjusting and balancing HVAC equipment for maximum performance.
In addition to classroom study, our college HVAC students perform energy and HVACR systems analysis for West Michigan businesses and industries. An energy systems laboratory includes HVAC equipment, computers and instrumentation found in commercial or industrial buildings. Our college HVAC lab includes a ten-ton variable air volume, four-zone HVAC system that controls cooling, heating and ventilation with computerized energy management. This college HVAC degree program also includes a paid internship as an HVAC technician in the summer semester between the junior and senior year.
HVAC College Graduates Get Great Jobs
The HVAC Engineering Technology program addresses designing, retrofitting, testing and balancing on a problem-solving level to prepare technologists to fill the wide technological gap between HVAC service, HVAC technicians and HVAC engineers.
Challenging HVAC careers abound in manufacturing, contracting, building operations and in the engineering of commercial, institutional and industrial building systems.
These industries look for trained HVAC engineering technicians for a variety of HVAC positions, including applications engineer, project engineer, systems control, estimator, HVAC technician, systems representative, control systems trainer and in-plant HVAC engineer. There also are many opportunities to be found with architectural and engineering firms.
More than 25 HVAC jobs exist for each college HVAC degree graduate with starting salaries averaging $45,000 per year.
HVAC Bachelor's Degree Admission Requirements
College students entering the HVACR Engineering Technology program must have completed the HVACR Technology program at Ferris or an equivalent HVAC A.A.S. degree program at another college, university, educational institution (or equivalent) with a minimum 2.5 GPA. In addition, HVAC degree students should possess computer literacy skills and have completed college intermediate algebra and trigonometry and a scientific understanding course.
College Degree HVAC Graduation Requirements
The HVACR Engineering Technology program at Ferris leads to a bachelor of science degree in HVAC. Graduation requires a minimum 2.0 GPA in the major and overall. College HVAC students must complete all general education requirements as outlined on the General Education website.
If you would like more information on College HVAC Bachelor Degree Programs at Ferris State University call (231) 591-2000.
About Ferris State University: College classes including our HVAC degree program, are taught at all levels by professional teachers, not graduate assistants. College students that major in HVAC at Ferris State University, study in more than 170 different college educational programs - including doctorate degrees, masters degrees, bachelors degree HVAC and associate degree HVAC programs.

More than 180 educational programs - including doctorates, master's, bachelor's and associate degrees - are offered through the colleges of Arts, Sciences and Education, Business, Education and Human Services, Engineering Technology, Health Professions, Optometry, Pharmacy, and Kendall College of Art and Design.

Ferris State University offers a wide variety of scholarships and financial aid. A majority of our students receive financial aid assistance. We encourage you to explore this website for more information on available scholarships and financial aid opportunities at Ferris State University. Ferris State provides all enrolled students access to a variety of academic skill-building opportunities that will assist them in their pursuit of academic excellence in a format that accommodates various learning preferences and schedules. At FSU students experience small classes with individual attention in 170 career-oriented majors leading to job placement for our graduates. FSU students also enjoy 220 student organizations for fun in a relaxed, hometown setting in the heart of Michigan's recreation area.

The group presentation, by one of our admissions recruiters, includes information on academic offerings, scholarships, housing, student life, and costs. A question and answer period follows the presentation and includes a few surprises! Lunch is provided at one of our well known dining facilities on campus. After lunch, guests may take part in a walking tour of campus led by one of our exceptional student guides. The walking tour takes approximately 1 hour.

If you would like more information on College Degree HVAC or would like to talk with or visit our campus in Big Rapids, Michigan contact us.

To Learn More About Ferris State University click here for the Mission Statement.