Bachelors Degree Automotive Management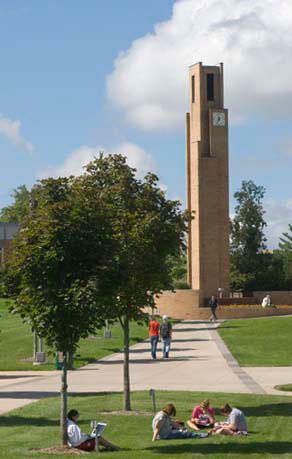 Bachelor Degrees:
Associates Degrees:
Automotive Minor Degree:
Automotive Certificate Programs:
Why Major In Automotive Management?
The Automotive Management Degree - AMGT degree program, formerly Automotive & Heavy Equipment Management (AHM), is an automotive management degree program that focuses on providing the transportation industry with state-of-the-art technical and business managers for service, parts, sales, leasing, warranty, and customer relations positions.
College graduates with an automotive management degree can find employment opportunities at:
Car Manufacturers
Truck Manufacturers
Automotive Equipment Manufacturers
Automotive Parts and Component Manufacturers
Automotive Suppliers
Automotive Dealers
Fleet Management Operations
Automotive Insurance Companies
Automotive Parts Aftermarket
Local Road Commissions
State Road Commissions
Highway and Federal Government Agencies
The automotive management degree and AMGT degree program concentrates on managerial skills required by the automotive and heavy equipment industry. Along with specific automotive management abilities, college students majoring in automotive management have the opportunity to develop communication and other related skills through oral presentations and written projects that are required in many college automotive management courses. In addition, an on-the-job management internship is an important part of the automotive management degree program at Ferris State.
Beyond the technical and general education coursework incorporated into the automotive management degree, automotive industry college classroom and laboratory instruction is provided in:
Automotive Management
Automotive Sales
Automotive Marketing
Automotive Product Distribution
Automotive Warranty Administration
Automotive Customer Relations
Automotive Dealership Operations
Automotive Franchising
Automotive Accounting
Automotive Financing
Automotive Internet Marketing
Automotive Industry-Related Software
Automotive Materials
Automotive Industry History and Culture
The AMGT degree program prepares college graduates for careers in the automotive service sector. Regardless of where a product is designed or manufactured, our college graduates of the automotive management degree program are prepared to provide knowledgeable, skilled, world-class customer service. One in seven jobs in the United States is related to transportation, primarily in the service sector, and these jobs cannot be outsourced. The automotive management degree program emphasizes developing verbal and written communication as well as organizational and time management skills. On-the-job automotive management internships further prepare the college automotive graduates to enter this lucrative field with valuable work experience.
Three Automotive Management Degree Options:
2+2 Option Automotive Management Degree
The most familiar automotive management degree option continues as the 2+2 Option. This automotive management degree arrangement is available for AMGT students with an Associate degree in Auto Service, Associate degree in Heavy Equipment or Associate degree in Auto Body who desire to go on an obtain a B.S. Degree in Automotive Management.
0 + 4 Option Automotive Management Degree
New to the Ferris Automotive Management Degree offerings is the 0+4 Option. It is available for high school graduates who know they want a technical and business management degree. This automotive management degree option has a technical focus the first two years, and automotive management students have an opportunity to take 12 credits in a focus area, such as a second language, technical writing, technical training, international business, e-commerce marketing, or obtain a minor in another discipline. The 0 + 4 automotive management degree option allows college automotive students to tailor their automotive management degree to their specific area of interest, with advisor consent.
Minor Option Automotive Management Degree
The third automotive management degree option is a Minor in Automotive Management for business majors and others who desire a solid overview of the business and cultural side of the transportation industry. The 18-credit automotive management minor degree prepares students to transition into automotive sales, automotive marketing, automotive distribution, and automotive customer relations positions within the automotive industry.
Earn a College Degree in Automotive Management and Prepare for a Great Career!
An automotive management degree leads to many exciting job opportunities. The automotive industry needs managers and representatives with up-to-date technical, managerial and communication skills. Automotive manufacturers need service, sales, parts and customer relations representatives.
Employment positions also exist in auto dealerships and care repair centers for college graduates with an automotive management degree that often leads to employment positions in service management, parts management, car sales, vehicle leasing and general management. Other automotive management positions include aftermarket managers, fleet managers, technical writers, trainers and government agency managers.
Automotive Management Degree Graduates Get Great Jobs
With an Automotive Management Degree, many exciting job opportunities exist with all major automotive and heavy equipment retailers, manufacturers, suppliers, and the aftermarket industry. Some automotive management degree graduates have even gone on to start their own businesses, while others have entered careers with the US Government in fleet management. College graduates from the AMGT degree program are among the highest-paid and most sought-after graduates of Ferris. Because every global automotive manufacturer doing business in America requires managers with the precise skills offered by this automotive management degree program, many college automotive management graduates are faced with the difficult decision of choosing from several highly desirable and lucrative job offers.
Upon completion of the automotive management degree, college automotive mgmt. graduates are often offered jobs in the following fields:
Automotive Service Managers
Automotive Field Service Representatives
Automotive Field Service Engineers
Automotive Sales Representatives
Automotive Customer Relations Managers
Automotive Insurance Adjusters
Automotive Fleet Managers
Automotive Parts Managers
Automotive Regional Parts Managers
Automotive Account Managers
Automotive Finance Managers
Automotive Sales Managers
Automotive Aftermarket Managers
Automotive Warranty Administrators
Automotive Service Advisors
Automotive Body Shop Managers
In addition, AMGT degree program graduates are often sought by leading companies within the automotive industry such as: GM, Ford, Chrysler, Toyota, Honda, Nissan, Hyundai, Cummins Engine, Detroit Diesel, TAC Automotive, State Farm Insurance, as well as major automotive dealership groups throughout America.
Admission Requirements Automotive Management Degree Program
2+2 Option
Individuals interested in transferring into the Automotive Management program under this option must first have completed an associate degree in an automotive or a heavy equipment related technical area, or equivalent, with a minimum 2.3 G.P.A. and MATH 110 (College Algebra) competency.
Graduates of manufacturer/dealership co-op programs such as General Motors' ASEP, Ford's ASSET, Chrysler's Cap, or Toyota's T-10 program also qualify.
0+4 Option
Students interested in enrolling in this option must meet the University entry requirements and have a minimum Math ACT score of 19.
Minor Option
The minor is open to all students enrolled and pursuing a baccalaureate or higher degree in majors other than Automotive Management. Students are expected to meet prerequisites for all courses. Students must complete a minimum of 18 semester hours with a 2.0 or higher G.P.A. in each minor course. Students are also required to meet with their Automotive Management faculty advisor to plan and track their progress throughout the minor degree.
Advanced standing in the automotive management degree or AMGT degree program can be achieved by transfer of credit, armed forces study, College Level Examination Program (CLEP) and course proficiency examinations.
Automotive Management Degree Graduation Requirements
The Automotive Management degree program at Ferris leads to a bachelor of science degree in automotive management. Graduation requires a minimum 2.0 GPA in core classes, in the major and overall. Automotive management students must complete all general education requirements as outlined on the General Education website.
If you would like more information on Automotive Management Degree Programs at Ferris State University call (231) 591-2000.
About Ferris State University: Ferris State University offers a wide variety of scholarships and financial aid. A majority of our students receive financial aid assistance. We encourage you to explore this website for more information on available scholarships and financial aid opportunities at Ferris State University. Ferris State provides all enrolled students access to a variety of academic skill-building opportunities that will assist them in their pursuit of academic excellence in a format that accommodates various learning preferences and schedules. At FSU students experience small classes with individual attention in 170 career-oriented majors leading to job placement for our graduates. FSU students also enjoy 220 student organizations for fun in a relaxed, hometown setting in the heart of Michigan's recreation area.

The group presentation, by one of our admissions recruiters, includes information on academic offerings, scholarships, housing, student life, and costs. A question and answer period follows the presentation and includes a few surprises! Lunch is provided at one of our well known dining facilities on campus. After lunch, guests may take part in a walking tour of campus led by one of our exceptional student guides. The walking tour takes approximately 1 hour.

If you would like more information on Automotive Management Degree or would like to talk with or visit our campus in Big Rapids, Michigan contact us.

To Learn More About Ferris State University click here for the Mission Statement.