Bachelors Degree Communication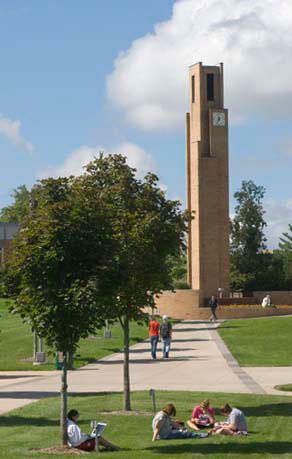 Why Major in Communication?
Welcome to the Communication degree program at Ferris State University! Our BA Communications Degree program prepares students for a variety of careers by equipping them with a wide array of communication skills. Communications major graduates use their skills and knowledge to acquire positions in sales and marketing, law, healthcare, customer relations, advocacy, management, personnel, counseling, public relations, broadcasting, entrepreneurship and a variety of other fields. Although the career options are numerous, the choice of a communication degree path for preparation is very clear.
In today's changing job market, it is now estimated that an average adult will make three to eleven career changes in their lifetime. With highly specialized or technical degrees, students obtain the knowledge and skills needed for a very specific career. However, with a degree in communication, students receive focused preparation for a variety of careers. Communication studies prepare professionals for a flexible future.
The Ferris BA in Communication combines applied, practical knowledge with the art and theory of communication. Ferris University's communication classes engage students, take on real-life communication scenarios, and help to develop valuable communication skills. Leaders in real-world communication industries bring real-world lessons, experience, and context to the communication degree students.
Communications is a burgeoning field, and increasingly influences our major social institutions. The cross-disciplinary studies that are part of the BA communications degree program at Ferris, prepares communication majors for today's competitive job market.
Communications College Graduates Get Great Jobs
Graduates of the Communication degree learn communication skills that apply to a wide range of careers. Communication Alumni have been employed in far-reaching fields in influential positions on the world stage. Communications majors earn positions in such fields as broadcasting, corporate media relations, manufacturing facility management, hospitals and health care administration, professional sports management, education, government, and industry.
College Degree Communications Admission Requirements
Students wishing to enroll in the Printing Management degree program at Ferris may begin in either fall or winter semester. Students must have completed an associate degree in Printing and Digital Graphic Imaging or Graphic Design from Ferris or an equivalent associate degree from another institution with a minimum 2.0 GPA. Students with the highest GPA or ACT scores are admitted first to the BS Printing Management degree program at Ferris.
College Degree Communications Graduation Requirements
Completion of the communication degree program at Ferris leads to a Bachelor of Arts degree. Graduation from the communication degree requires a minimum 2.5 GPA in the curriculum and a minimum 2.25 GPA overall. Communication degree students must complete all general education requirements as outlined on the General Education website.
If you would like more information on Communication Bachelor's Degree Programs at Ferris State University call (231) 591-2000.
About Ferris State University: College classes including our communication degree program, are taught at all levels by professional teachers, not graduate assistants. College students that major in communications at Ferris State University, study in more than 170 different college educational programs - including doctorate degrees, masters degrees, bachelors degree communications and associate degree communication programs.

More than 180 educational programs - including doctorates, master's, bachelor's and associate degrees - are offered through the colleges of Arts, Sciences and Education, Business, Education and Human Services, Engineering Technology, Health Professions, Optometry, Pharmacy, and Kendall College of Art and Design.

Ferris State University offers a wide variety of scholarships and financial aid. A majority of our students receive financial aid assistance. We encourage you to explore this website for more information on available scholarships and financial aid opportunities at Ferris State University. Ferris State provides all enrolled students access to a variety of academic skill-building opportunities that will assist them in their pursuit of academic excellence in a format that accommodates various learning preferences and schedules. At FSU students experience small classes with individual attention in 170 career-oriented majors leading to job placement for our graduates. FSU students also enjoy 220 student organizations for fun in a relaxed, hometown setting in the heart of Michigan's recreation area.

The group presentation, by one of our admissions recruiters, includes information on academic offerings, scholarships, housing, student life, and costs. A question and answer period follows the presentation and includes a few surprises! Lunch is provided at one of our well known dining facilities on campus. After lunch, guests may take part in a walking tour of campus led by one of our exceptional student guides. The walking tour takes approximately 1 hour.

If you would like more information on Communication Degree or would like to talk with or visit our campus in Big Rapids, Michigan contact us.

To Learn More About Ferris State University click here for the Mission Statement.