Bachelors Degree Professional Tennis Management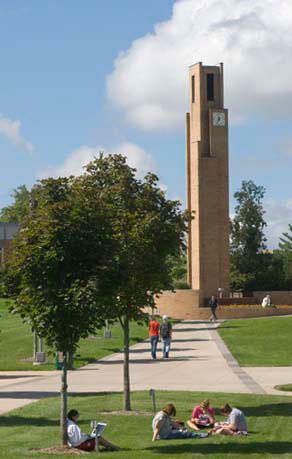 Why Major in Professional Tennis Management?
Graduation from the Professional Tennis Management degree program opens up a variety of career paths. In addition to traditional business careers outside of tennis, Ferris Professional Tennis Management graduates are well prepared for careers as tennis teaching pros, tennis directors, club managers, camp directors, pro shop managers, manufacturer sales representatives and tennis industry administrators.
Students of the college professional tennis management degree receive on-the-job training by completing two paid outside internships at clubs, resorts and facilities all over the United States. The third internship is on-going at the university-owned and operated Racquet and Fitness Center that is managed by a USPTA Master Professional and used as a laboratory for Professional Tennis Management students. With a placement rate of 100 percent since its inception, the professional tennis management degree program is a gateway to great career opportunities.
Professional Tennis Management College Graduates Get Great Jobs
The professional tennis management degree program, the first four-year degree of its kind in the United States, was developed to meet the increasing demand for the well-trained tennis professionals resulting from the rapid growth and computerization of the tennis industry. The United States Professional Tennis Association (USPTA) recommends and accredits the Ferris professional tennis management degree program and uses it as an industry model for other such programs. The Ferris professional tennis management degree program has attracted students from 14 countries with job placements from England to New Zealand. The majority of the professional tennis management students are from out of state.
The professional tennis management degree program prepares you for a top entry-level position upon graduation. The professional tennis management degree program encourages excellence in all aspects of the sport and provides a solid, well-rounded business foundation in addition to the marketing emphasis. Additionally, all professional tennis management students become USPTA-certified tennis professionals upon graduation. Courses include management, marketing, accounting, sales, retail merchandising, computer information, law and other business courses. Classes and hands-on workshops in racquet repair, clay court maintenance, tournament administration and teaching techniques are presented by USPTA experts.
Professional Tennis Management Bachelor's Degree
Admission Requirements
Applicants of the professional tennis management must present evidence of graduation from high school or the GED. To enter a Bachelor of Science degree (B.S.) Program in Business, applicants are expected to meet two of the following: a minimum high school grade point average of 2.50 (on a 4.00 scale); ACT math score of 19 or higher; an ACT reading score of 19 or higher.
Also required is one of the following: NTRP of 4.0, USTA district ranking, or proven ability at the high-school level. A letter of reference from a USPTA professional, tennis coach or school administrator verifying playing ability, is required.
College Degree Professional Tennis Management
Graduation Requirements
The Professional Tennis Management Degree program at Ferris leads to a bachelor of science degree. Graduation from the professional tennis management requires a minimum 2.0 GPA in core courses, in the major and overall. Professional tennis management Students must obtain USPTA P-2 teaching certification in order to graduate.
If you would like more information on Professional Tennis Management Bachelor Degree Programs at Ferris State University call (231) 591-2000.
About Ferris State University: College classes including our Professional Tennis Management degree program, are taught at all levels by professional teachers, not graduate assistants. College students that major in Professional Tennis Management at Ferris State University, study in more than 170 different college educational programs - including doctorate degrees, masters degrees, bachelors degree Professional Tennis Management and associate degree Professional Tennis Management programs.

More than 180 educational programs - including doctorates, master's, bachelor's and associate degrees - are offered through the colleges of Arts, Sciences, and Education, Business, Education and Human Services, Engineering Technology, Health Professions, Optometry, Pharmacy, and Kendall College of Art and Design.

Ferris State University offers a wide variety of scholarships and financial aid. A majority of our students receive financial aid assistance. We encourage you to explore this website for more information on available scholarships and financial aid opportunities at Ferris State University. Ferris State provides all enrolled students access to a variety of academic skill-building opportunities that will assist them in their pursuit of academic excellence in a format that accommodates various learning preferences and schedules. At FSU students experience small classes with individual attention in 170 career-oriented majors leading to job placement for our graduates. FSU students also enjoy 220 student organizations for fun in a relaxed, hometown setting in the heart of Michigan's recreation area.

The group presentation, by one of our admissions recruiters, includes information on academic offerings, scholarships, housing, student life, and costs. A question and answer period follows the presentation and includes a few surprises! Lunch is provided at one of our well known dining facilities on campus. After lunch, guests may take part in a walking tour of campus led by one of our exceptional student guides. The walking tour takes approximately 1 hour.

If you would like more information on Professional Tennis Management Degree or would like to talk with or visit our campus in Big Rapids, Michigan contact us.

To Learn More About Ferris State University click here for the Mission Statement.