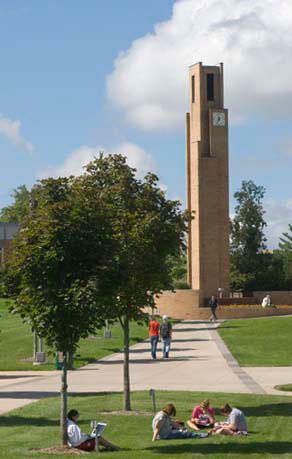 Why Major in Professional Golf Management?
The professional golf management degree program leads to a bachelor of science degree in business, with a major in marketing. This college program is sanctioned by the Professional Golfers' Association (PGA) of America. Alternating with on-campus study, the professional golf management degree program includes five semesters of work in an internship program. In the internship program, you gain on-the-job experience at a golf facility working with a PGA-certified professional.
About 50 percent of the overall study in the professional golf management degree program is in business, 30 percent in general studies and 20 percent in courses related to golf management. Ferris owns and operates an on-campus 18-hole golf course that is managed by a member of the PGA and used as a laboratory for professional golf management students.
Professional Golf Management College Graduates Get Great Jobs
The life of a golf professional requires more than a powerful drive and accurate putting. A career in this field requires knowledge of business operations, teaching, golf course maintenance, golf club repair and organization of golf events. A knowledge of business is particularly important to the golf professional who is expected to handle marketing, merchandising, accounting and management.
The Ferris Professional Golf Management degree program, the first of its kind in the nation established in conjunction with the Professional Golfers' Association of America, trains and educates future golf professionals to meet the demands of the golf industry. Upon completion of all PGA of America requirements, students will obtain the PGA/PGM designation on their diploma and Class A membership into the PGA of America.
If you would like more information on Professional Golf Management Bachelor Degree Programs at Ferris State University call (231) 591-2000.