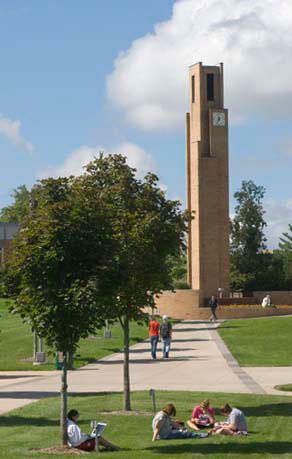 Why Major in Nursing?
There are many nursing career opportunities for nurses with experience and a bachelor of science degree in nursing. Earn a college nursing degree and a field that traditionally has provided a number of nursing career opportunities. The demand for college graduates with a nursing degree is growing at an unprecedented rate in Michigan and Nationwide.
Driven by technological developments, rapid advancements in disease prevention and health promotion, increased public awareness of health concerns, and a booming, aging population, a college nursing degree such as a bachelors degree in nursing offers college nursing graduates a wide variety of health care job openings, ranging from traditional nursing degree positions involving patient care to executive and professional positions with a nursing degree in health care administration.
Advance Your Career with a Nursing Degree
College nursing degree students with an Associate Degree in Nursing and Registered Nurse licensure can earn a bachelors degree in nursing (BSN nursing degree) at Ferris State on a part-time basis at any of our Michigan nursing college campus locations or at selected nursing college sites across the state of Michigan, or full-time on campus. The bachelor degree nursing program builds upon your prior learning and reduces unnecessary repetition to minimize your investment of time and money. Designed expressly for an associate degree in nursing and registered nurses seeking to earn a bachelors degree in nursing as so many nursing students further their educational growth and development, college nursing degree classes are scheduled for evening and weekends or nursing degree courses held online (or a mixture of classroom and online time) - all to accommodate the busy lives of working adults.
The Ferris State University Bachelor of Science nursing program is fully accredited by the National League for Nursing Accrediting Commission NLNAC).
College Nursing Degree Graduates Get Great Jobs
The Ferris State bachelor of science nursing degree program equips students that major in nursing with the theory-based knowledge and skills to work in many of the new and expanding fields of healthcare and nursing. It increases your understanding of illness prevention, health promotion and maintenance, counseling and health care education and rehabilitative services.
College students in our leading nursing degree program will acquire the nursing skills and the self-assurance that will qualify nursing graduates for diverse nursing career opportunities when they graduate the college nursing degree program at Ferris State. Students of the bachelor of science nursing degree program, will be prepared to lead nursing and health care teams, coordinate and plan nursing care for a variety of clients, collaborate with other health professionals, and make confident, independent nursing professional decisions.
Nurses with bachelor of science nursing degrees typically earn higher salaries than bedside nurses when the students with a bachelor of science nursing degree assume roles in management and community health settings. Advanced practice nurses, with college education levels beyond the bachelor of science nursing degree can earn salaries ranging from $55,000 to $90,000 per year, depending on the nursing specialty and location of employment.
Bachelor's Degree Nursing Admission Requirements
To be eligible for our Nursing Degree Michigan College degree program you must have a Michigan registered nurse license, a cumulative GPA of 2.0 in the basic college nursing courses (Associates Degree Nursing ADN or a Associate Degree Nursing ADN Diploma), and in each of the biological and physical sciences. A completed application, copy of the registered nursing license and official transcripts from other institutions are all that is required for the nursing degree application process.
College Nursing Degree Graduation Requirements
Graduation from the college nursing degree program at Ferris State, requires a minimum of 2.0 GPA. College Nursing students must earn a grade of "C" or better in a nursing major and core nursing major courses and meet all the general education requirements as outlined on the nursing degree general education website.
If you would like more information on College Nursing Degree Programs at Ferris State University call (231) 591-2000.
About Ferris State University: College classes including our nursing degree program, are taught at all levels by professional teachers, not graduate assistants. College students that major in nursing at Ferris State University, study in many different college educational nursing programs including bs degree nursing, rn degree nursing, rn to bsn nursing degree program, bachelors degree nursing and associate degree nursing, asn degree nursing programs.

Ferris State University offers a wide variety of scholarships and financial aid. A majority of our students receive financial aid assistance. We encourage you to explore this website for more information on available scholarships and financial aid opportunities at Ferris State University. Ferris State provides all enrolled students access to a variety of academic skill-building opportunities that will assist them in their pursuit of academic excellence in a format that accommodates various learning preferences and schedules. At FSU students experience small classes with individual attention in 170 career-oriented majors leading to job placement for our graduates. FSU students also enjoy 220 student organizations for fun in a relaxed, hometown setting in the heart of Michigan's recreation area.

The group presentation, by one of our admissions recruiters, includes information on academic offerings, scholarships, housing, student life, and costs. A question and answer period follows the presentation and includes a few surprises! Lunch is provided at one of our well known dining facilities on campus. After lunch, guests may take part in a walking tour of campus led by one of our exceptional student guides. The walking tour takes approximately 1 hour.

If you would like more information on Nursing Degree or would like to talk with or visit our campus in Big Rapids, Michigan contact us.

To Learn More About Ferris State University click here for the Mission Statement.