Bachelors Degree Music Industry Management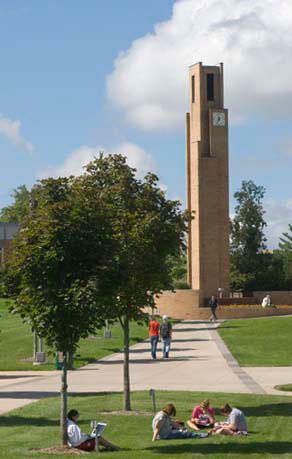 Why Major in Music Industry Management?
The Music Industry Management Degree Program prepares students to enter the global, multi-billion dollar music and entertainment industry. This degree program provides the thorough business training sought by every branch of the industry.
This program features two internship opportunities that allow the student to experience, first hand, work in their chosen areas of the industry. The Music Industry Management Degree Program consistently places interns and employees in the major markets of New York, Los Angeles, Nashville as well as regional markets like Chicago and Detroit. Interns can find themselves working for record labels, radio stations, manufacturers, agents, concert venues - many in major cities for companies most people recognize by name.
Advance Your Career with a Music Industry Management Degree
Music Industry Management is endorsed and supported by the National Association of Music Merchants (NAMM), the professional trade organization that represents the global music products industry. NAMM sponsors two world-class trade shows per year and Music Industry Management students are allowed to attend these at minimal cost (students are responsible for travel and lodging). The Winter Show is a tradition at the Anaheim Convention Center in California and this is the single largest event of its kind in the world. At these shows, students will see the latest in music making products, see performances by some of their favorite artists, and benefit from special sessions and seminars designed for students planning a career in the industry.
Students can also take part in conferences and trade shows sponsored by the Music Business Association. These conferences are held in cities like San Diego, Chicago, San Francisco and are attended by professionals representing Major and Independent Record Companies, Distributors, and recorded music Retailers.
All areas of the music business are explored with emphasis on preparing students for positions in marketing, management, sales, advertising, public relations and promotion. Previous formal training in music is not required to begin this degree program - musical studies deemed appropriate by the industry are incorporated to enrich the lives of Music Industry Management majors and enhance their understanding of the role of the artist/performer
Business and Music - the perfect combination for select students.
Music Industry Management College Graduates Get Great Jobs
As a result of their academic preparation, in conjunction with the extensive hands-on component of this curriculum (derived from two internships, participation in national/international trade shows and conventions, and active involvement in the student-based organization which functions as a model production company), our graduates are sought after by employers from New York to L.A., Nashville to Chicago, and regional markets throughout the country.
Bachelor's Degree Music Industry Management
Admission Requirements
New Students: 2.50 high school GPA (on a 4.0 scale) and two of the three criteria below: (1) English ACT score of 16 or higher, or SAT Writing score of 370 or higher; (2) Math ACT score of 19 or higher, or SAT Math score of 460 or higher; (3) Reading ACT score of 19 or higher, or SAT Reading score of 430 or higher.
Transfer Students: Combined college or university GPA of 2.50 (on a 4.0 scale) from all institutions attended. GPA is based on completion of 12 credit hours or more. Transfer equivalency for FSU ENGLISH 150 or placement during the first semester at FSU which would require an ACT English score of 16 or higher; Compass score 70 – 100. Transfer equivalency for FSU MATH 115 or placement during the first semester at FSU which would require an ACT Math score of 19 or higher; Compass Algebra score 46 - 74 and HS Algebra with 2.0.
Exceptions for New and Transfer Students: Applicants not meeting the above criteria but having a 2.35 High School GPA and at least a 16 ACT in Math or Reading (2.00 Overall GPA for Transfer Students) can be considered for conditional admission in a College of Business Pre-Program. Any mitigating circumstances will be considered on an individual basis by the College of Business Dean's Office. Applicants admitted to a Pre-Program will be considered for eligible enrollment as a transfer student (see Transfer Student admission requirements).
Pre-Program students must complete a minimum of 12 FSU credits (excluding developmental courses) with a 2.50 GPA; courses must include ENGL 150 and MATH 115 before being considered for admission into their program of choice. Students must meet admission criteria for their chosen degree program by the time they have earned 30 credits and not to exceed 45 applicable credits.
College Degree Music Industry Management
Graduation Requirements
The Music Industry Management degree program at Ferris will lead to a Bachelor of Science in Business Administration with a major in Music Industry Management.
If you would like more information on Music Industry Management Bachelor's Degree Programs at Ferris State University call (231) 591-2000.
About Ferris State University: College classes including our Music Industry Management Degree Program, are taught at all levels by professional teachers, not graduate assistants. College students at Ferris State University, including our Music Industry Management Degree Program students, study in more than 170 different college educational programs - including doctorate degrees, masters degrees, bachelor's degrees and associate degree programs.

Ferris State University offers a wide variety of scholarships and financial aid. A majority of our students receive financial aid assistance. We encourage you to explore this website for more information on available scholarships and financial aid opportunities at Ferris State University. Ferris State provides all enrolled students access to a variety of academic skill-building opportunities that will assist them in their pursuit of academic excellence in a format that accommodates various learning preferences and schedules. At FSU students experience small classes with individual attention in 170 career-oriented majors leading to job placement for our graduates. FSU students also enjoy 220 student organizations for fun in a relaxed, hometown setting in the heart of Michigan's recreation area.

The group presentation, by one of our admissions recruiters, includes information on academic offerings, scholarships, housing, student life, and costs. A question and answer period follows the presentation and includes a few surprises! Lunch is provided at one of our well known dining facilities on campus. After lunch, guests may take part in a walking tour of campus led by one of our exceptional student guides. The walking tour takes approximately 1 hour.

If you would like more information on Music Industry Management Degree or would like to talk with or visit our campus in Big Rapids, Michigan contact us.

To Learn More About Ferris State University click here for the Mission Statement.