Bachelors Degree Medical Laboratory Science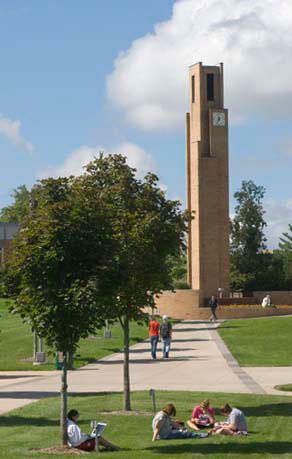 Why Major in Medical Laboratory Science?
Medical Technologists perform laboratory analyses to help the physician detect, diagnose and treat disease. Technologists work with sophisticated laboratory instruments and computers that must be kept in optimal operating condition to give the most accurate results. The volume and sophistication of laboratory testing will increase as the population grows and lives longer. Physicians base about 70 percent of their diagnosis and treatment decisions on the results of laboratory testing.
Medical technologists work in such divisions of the medical laboratory in the blood bank, clinical chemistry, microbiology, hematology, serology and body fluid analysis under the supervision of a medical director.
Advance Your Career with a Medical Laboratory Science Degree
Our college medical technology degree program combines classroom instruction and laboratory practice on-campus with medical technology internships in hospitals throughout the state of Michigan to prepare medical technology degree graduates to perform a wide range of tests.
The medical technology degree program is fully accredited by the National Accrediting Agency for Clinical Laboratory Sciences.
Medical Laboratory Science College Graduates
Get Great Jobs
Career opportunities exist in the clinical laboratories in hospitals and medical centers; pharmaceutical industry in quality control, research and biotechnology; government crime labs, accreditation offices, environmental technology, veterinary medicine and lab information systems; humanitarian work in the Peace Corps, Project Hope and medical missionary workers. Many medical technology degree graduates assume positions as laboratory directors and healthcare supervisors.
The median annual base salary of full-time medical technologists was $37,500 in 2000. The middle 50 percent earned between $35,500 and $40,000. Salaries are increasing annually. Many employers are paying sign-on bonuses because of the shortage of qualified medical technologists.
Medical Laboratory Science Bachelors Degree
Admission Requirements
College students wishing to enroll in the medical technology degree program are required to have a 2.5 GPA plus a "C" average in one year of chemistry and biology, plus a math ACT sub-score of 19 or better. College students that wish to transfer into the Medical Laboratory Science degree program need a 2.5 GPA plus a "C" or better in one semester of biology and one semester of chemistry with a lab, plus a "C" or better in MATH 110 or its equivalent.
College Degree Medical Laboratory Science
Graduation Requirements
To graduate from the medical technology degree program, a college student must have earned a minimum grade of "C" in each CLLS course, BIOL 205 and the CAHS core courses. A minimum cumulative gpa of 2.0 is required.
Ferris State guarantees medical technology degree students an internship in the last semester of the medical technology degree program, although due to limited space, specific clinical site locations cannot be guaranteed. If a Medical Laboratory Science bs degree student interrupts progression in the professional sequence of the medical technology degree program, re-entry cannot be guaranteed due to space limitations in laboratory and clinical placement sites.
If you would like more information on Medical Laboratory Science Bachelor Degree Programs at Ferris State University call (231) 591-2000.
About Ferris State University: College classes including our Medical Laboratory Science degree program, are taught at all levels by professional teachers, not graduate assistants. College students that major in Medical Laboratory Science at Ferris State University, study in more than 170 different college educational programs - including doctorate degrees, masters degrees, bachelors degree Medical Laboratory Science and associate degree Medical Laboratory Science programs.

More than 180 educational programs - including doctorates, master's, bachelor's and associate degrees - are offered through the colleges of Arts and Sciences, Business, Education and Human Services, Engineering Technology, Health Professions, Optometry, Pharmacy, and Kendall College of Art and Design.

Ferris State University offers a wide variety of scholarships and financial aid. A majority of our students receive financial aid assistance. We encourage you to explore this website for more information on available scholarships and financial aid opportunities at Ferris State University. Ferris State provides all enrolled students access to a variety of academic skill-building opportunities that will assist them in their pursuit of academic excellence in a format that accommodates various learning preferences and schedules. At FSU students experience small classes with individual attention in 170 career-oriented majors leading to job placement for our graduates. FSU students also enjoy 220 student organizations for fun in a relaxed, hometown setting in the heart of Michigan's recreation area.

The group presentation, by one of our admissions recruiters, includes information on academic offerings, scholarships, housing, student life, and costs. A question and answer period follows the presentation and includes a few surprises! Lunch is provided at one of our well known dining facilities on campus. After lunch, guests may take part in a walking tour of campus led by one of our exceptional student guides. The walking tour takes approximately 1 hour.

If you would like more information on Medical Laboratory Science Degree or would like to talk with or visit our campus in Big Rapids, Michigan contact us.

To Learn More About Ferris State University click here for the Mission Statement.