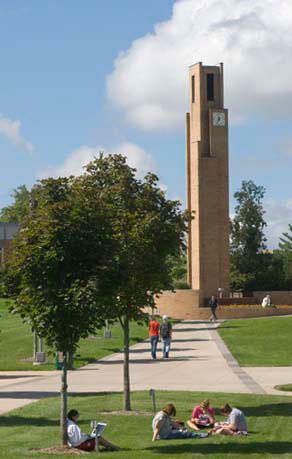 Why Major in Marketing?
If you choose to major in marketing there are a host of career opportunities available to you. Career paths might include e-commerce, marketing analysis, professional selling, advertising, supply chain management, marketing research and a host of other customer service/leadership positions.
One out of every five presidents or chief executive officers in the nation's top 500 businesses was, as an undergraduate, a marketing major. Further, salaries open to marketing graduates from Ferris State University compare very favorably to salaries received in highly technical and specialized non-business careers.
As a student of the Ferris State University marketing degree program, you will be provided the opportunity to:
Engage in a number of internship activities
Learn how to develop, execute and control complex marketing strategy
Choose from concentrations - such as Marketing, Sales, E-commerce, Retailing, or choose the diversified concentration which allows you to complete a certificate or minor to complement your marketing major
Build information-based analytical decision-making skills and apply research results in developing successful marketing degree programs
You will be exposed to an exciting set of concepts that will serve you, not just in marketing, but in any career field in which you become a manager or leader and are required to influence others to accomplish the tasks you face together in day-to-day activities.
Marketing College Graduates Get Great Jobs
Many of our marketing graduates have gone on to major leadership positions in industrial marketing, radio and television, entertainment, food service, television news, web-based businesses, as well as with such organizations as hospitals, government agencies, social service organizations and charities.
Further, you always have the option of seeking a career path as a successful entrepreneur. As an entrepreneur, the marketing skills you learn will help increase the likelihood your business ventures will be successful.
Finally, often times great marketers become dynamic sales people who serve in consulting and marketing management positions that eventually lead to the highest levels of organization leadership. Your ability to be both a marketer and a professional sales person will serve you well as you progress in your career.
If you would like more information on Marketing Bachelor's Degree Programs at Ferris State University call (231) 591-2000.