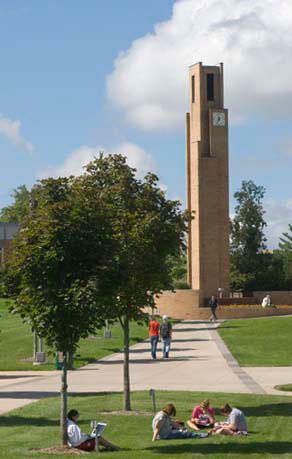 Why Major in Management?
In Ferris State's exceptionally strong management degree program, you receive a well-rounded education in business operations and are trained in management skills. The curriculum gives you practical business knowledge as well as a social and economic perspective on your work. That perspective is gained through courses in business ethics, social responsibility, supervision and leadership, contracts and many other business classes.
You will study under highly qualified faculty members who have extensive work experience. You are encouraged to participate in the Ferris internship program, earning University credit while gaining valuable real world experience.
Management College Graduates Get Great Jobs
Capable, well trained managers are consistently in demand nationwide. That's because business and industry depend on the creativity and productivity of managers to compete successfully in our global economy. Managers use their training, experience and imagination to solve problems. Increasingly, managers work with teams on cross-disciplinary projects while assuring that resources are being used effectively. Managers analyze data, set and achieve goals, assess results and help organizations adapt to change.
This challenging, fast-paced career offers prospects in banks, manufacturing, retailing, construction, hotels, investment companies, accounting firms, utilities, government and a myriad of other organizations. Graduates of the Ferris Management Degree Program are prepared to work in a variety of venues. They are immediately employable upon graduation.
If you would like more information on Management Bachelor's Degree Programs at Ferris State University call (231) 591-2000.