Bachelors Degree Management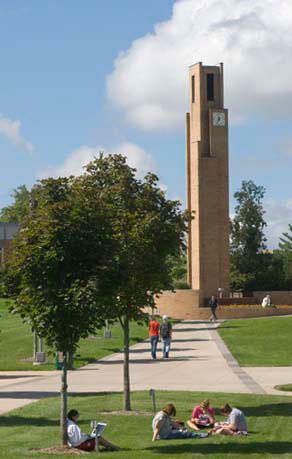 Why Major in Management?
In Ferris State's exceptionally strong management degree program, you receive a well-rounded education in business operations and are trained in management skills. The curriculum gives you practical business knowledge as well as a social and economic perspective on your work. That perspective is gained through courses in business ethics, social responsibility, supervision and leadership, contracts and many other business classes.
You will study under highly qualified faculty members who have extensive work experience. You are encouraged to participate in the Ferris internship program, earning University credit while gaining valuable real world experience.
Management College Graduates Get Great Jobs
Capable, well trained managers are consistently in demand nationwide. That's because business and industry depend on the creativity and productivity of managers to compete successfully in our global economy. Managers use their training, experience and imagination to solve problems. Increasingly, managers work with teams on cross-disciplinary projects while assuring that resources are being used effectively. Managers analyze data, set and achieve goals, assess results and help organizations adapt to change.
This challenging, fast-paced career offers prospects in banks, manufacturing, retailing, construction, hotels, investment companies, accounting firms, utilities, government and a myriad of other organizations. Graduates of the Ferris Management Degree Program are prepared to work in a variety of venues. They are immediately employable upon graduation.
Bachelor's Degree Management
Admission Requirements
A minimum composite ACT score of 22 and a minimum 3.2 high school GPA are required. Transfer students also must meet higher standards and are required to have a minimum 2.7 college GPA in college-level course work. The management degree program is designed for the well-prepared student emphasizing additional higher-level business courses. The management degree program reinforces basic business courses, includes an e-business component and strongly encourages pursuit of minors and internships. The management degree program is aimed at making entrance to MBA programs as smooth as possible. It optimizes employment opportunities through in-depth coursework and a 2.5 GPA graduation requirement for the management degree.
College Degree Management
Graduation Requirements
The management degree program at Ferris leads to a bachelor of science degree. Graduation from the management degree program requires a minimum 2.5 GPA in core classes, in the major and overall.
If you would like more information on Management Bachelor's Degree Programs at Ferris State University call (231) 591-2000.
About Ferris State University: College classes including our Management degree program, are taught at all levels by professional teachers, not graduate assistants. College students that major in Management at Ferris State University, study in more than 170 different college educational programs - including doctorate degrees, masters degrees, bachelors degree Management and associate degree Management programs.

Ferris State University offers a wide variety of scholarships and financial aid. A majority of our students receive financial aid assistance. We encourage you to explore this website for more information on available scholarships and financial aid opportunities at Ferris State University. Ferris State provides all enrolled students access to a variety of academic skill-building opportunities that will assist them in their pursuit of academic excellence in a format that accommodates various learning preferences and schedules. At FSU students experience small classes with individual attention in 170 career-oriented majors leading to job placement for our graduates. FSU students also enjoy 220 student organizations for fun in a relaxed, hometown setting in the heart of Michigan's recreation area.

The group presentation, by one of our admissions recruiters, includes information on academic offerings, scholarships, housing, student life, and costs. A question and answer period follows the presentation and includes a few surprises! Lunch is provided at one of our well known dining facilities on campus. After lunch, guests may take part in a walking tour of campus led by one of our exceptional student guides. The walking tour takes approximately 1 hour.

If you would like more information on Management Degree or would like to talk with or visit our campus in Big Rapids, Michigan contact us.

To Learn More About Ferris State University click here for the Mission Statement.