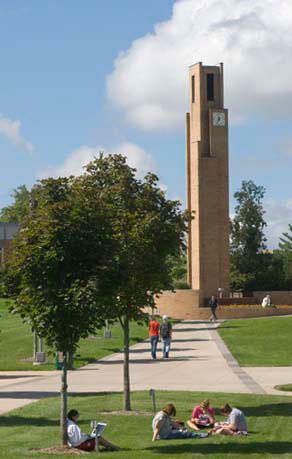 Why Choose the Forensics Degree Program?
You've seen them on T.V. gathering evidence at a crime scene or testing DNA samples in a lab. They are forensics experts, scientific detectives who search for clues that answer the "who, what and when" questions of a legal investigation. If you have an inquiring mind and like biology and chemistry, you may be interested in Ferris State's Forensic Biology degree program.
Forensic biology is the application of biological knowledge and laboratory techniques to criminal and civil investigations as well as to the identification of unknown individuals.
The bachelors degree in forensic biology builds on a solid foundation of biology and chemistry, with unique core courses in forensic biology, forensic chemistry, forensic human pathology and forensic DNA analysis. The bachelor degree in Forensic biology is designed for the student who is interested in analyzing biological evidence as it relates to legal and other investigations, or collecting and processing evidence at a crime scene or in a laboratory. Earning a college forensics degree is excellent preparation for graduate work in specialized areas of forensics.
Advance Your Career with a Forensics Degree
Forensics degree students receive extensive training in the collection and analysis of biological evidence in both lab and field settings. Students learn how to evaluate mock crime scenes that include decomposition of Forensic Biology Degree animal remains in the field. Students that major in Forensics also learn how to document, collect and analyze the insects, plants and other biological evidence to determine the time of death.
Forensics degree students learn to identify skeletal remains, and evaluate trauma.
The forensics degree program was created to increase the options available to Ferris State forensics students seeking to supplement their biology or criminal justice education with a forensic degree. Participation in college study programs in the field of forensics helps Ferris State University students increase their employment opportunities. The forensics degree program is designed specifically to help college students become highly skilled investigators at various forensic crime scenes. Individuals who earn a bachelors degree in forensics will be employable in many roles, including forensic crime scene technicians.
If you would like more information on the Forensics Degree Program at Ferris State University call (231) 591-2000.