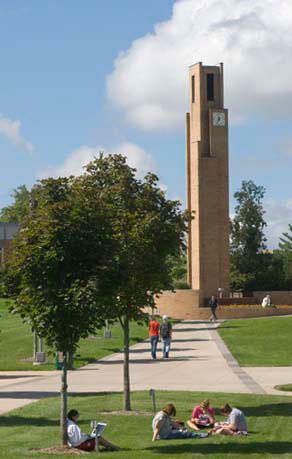 Why Major in Finance?
The finance major is designed for students who are interested in the stewardship of the financial resources of individuals, corporations, or financial institutions. As future managers, finance students learn the principles and applications of financial analysis, management, and strategy. The finance degree program aims to equip students with the theoretical understanding and practical skills necessary to evaluate and direct decisions regarding the allocation of financial resources among a variety of competing opportunities with the goal of maximizing the value of the resources being managed.
Finance College Graduates Get Great Jobs
Money and finance touch almost every aspect of business and life. That's why finance is a wise career choice for anyone with broad business interests. The function of finance involves decisions on how to best use money. Financial planning binds together all functions of an organization, and it takes special skills to deal with the complexities of keeping a firm profitable.
Finance students can choose from three concentrations: the corporate concentration, investment concentration or real estate concentration. Graduates with finance majors find positions in a variety of companies and agencies with duties including analysis, planning and control, capital management, short-term and long-term financing, investment, security analysis and portfolio management. These occupations generally offer attractive starting salaries and working conditions. The future of finance is secure. The need for finance graduates is expected to continue its rise through the next century.
Finance Bachelor's Degree Admission Requirements
Applicants of the finance degree program must present evidence of graduation from high school or the GED. To enter a Bachelor of Science degree (B.S.) Program in Business, applicants are expected to meet two of the following: a minimum high school grade point average of 2.50 (on a 4.00 scale); ACT math score of 19 or higher; an ACT reading score of 19 or higher.
College Degree Finance Graduation Requirements
The Finance degree program at Ferris leads to a Bachelor's of Science degree in business. Graduation from the finance degree program requires a minimum 2.0 GPA in core classes, in the major and overall.
If you would like more information on Finance Bachelor Degree Programs at Ferris State University call (231) 591-2000.
About Ferris State University: College classes including our Finance Degree Program, are taught at all levels by professional teachers, not graduate assistants. College students at Ferris State University, including our Finance Degree Program students, study in more than 180 different college educational programs - including doctorate degrees, masters degrees, bachelor's degrees and associate degree programs.

More than 180 educational programs - including doctorates, master's, bachelor's and associate degrees - are offered through the colleges of Arts and Sciences, Business, Education and Human Services, Engineering Technology, Health Professions, Optometry, Pharmacy, and Kendall College of Art and Design.

Ferris State University offers a wide variety of scholarships and financial aid. A majority of our students receive financial aid assistance. We encourage you to explore this website for more information on available scholarships and financial aid opportunities at Ferris State University. Ferris State provides all enrolled students access to a variety of academic skill-building opportunities that will assist them in their pursuit of academic excellence in a format that accommodates various learning preferences and schedules. At FSU students experience small classes with individual attention in 180 career-oriented majors leading to job placement for our graduates. FSU students also enjoy 220 student organizations for fun in a relaxed, hometown setting in the heart of Michigan's recreation area.

The group presentation, by one of our admissions recruiters, includes information on academic offerings, scholarships, housing, student life, and costs. A question and answer period follows the presentation and includes a few surprises! Lunch is provided at one of our well known dining facilities on campus. After lunch, guests may take part in a walking tour of campus led by one of our exceptional student guides. The walking tour takes approximately 1 hour.

If you would like more information on Finance Degree or would like to talk with or visit our campus in Big Rapids, Michigan contact us.

To Learn More About Ferris State University click here for the Mission Statement.