Bachelors Degree Criminal Justice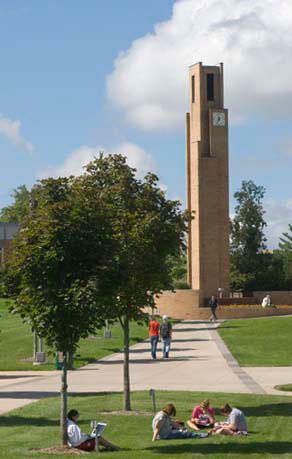 Why Major in Criminal Justice?
The criminal justice degree program provides a combined training and criminal justice education package to prepare men and women for a professional career in the criminal justice system.
Acceptance into the criminal justice bachelor degree program (junior/senior level) is on a competitive basis, as space permits.
The criminal justice degree program provides two primary entry points: (1) to accommodate criminal justice students who wish to complete all four years at Ferris; and (2) college criminal justice students who transfer into the Ferris State criminal justice degree program with an associate degree criminal justice or its equivalent.
Criminal Justice College Graduates Get Great Jobs
The criminal justice degree program at Ferris State has three options: law enforcement specialist; criminal justice corrections; or criminal justice generalist. Depending upon the criminal justice major or cj program option chosen, Criminal Justice degree students study criminal justice subjects such as administration of police units, police laboratory techniques, collection of evidence, the role of police in forming community opinion, cause and prevention of juvenile delinquency, criminal justice theory and practice of handling convicted law violators, probation and parole, criminal justice processes and problems, crime control policy, and the role of law enforcement in American society.
During the summer internship between the junior and senior years, the Criminal Justice degree students are assigned to a cooperating criminal justice agency for practical experience in a criminal justice internship program.
Bachelor's Degree Criminal Justice Admission Requirements
College students who major in criminal justice by enrolling in the criminal justice degree program prior to the junior level enroll in the Pre-Criminal Justice curriculum. Completion of the Pre-Criminal Justice degree program does not guarantee acceptance into the criminal justice bachelor degree program. The bachelors degree in Criminal Justice is awarded for successful completion of 128-134 semester credit hours of coursework. These criminal justice degree credit hours are a combination of the 63-64 credit hours as required in the first two years as a criminal justice major (or an equivalent from another college) and the 64-67 semester credit hours required in the junior and senior years at Ferris State. Graduation from the college criminal justice degree program requires a minimum 2.5 GPA for the law enforcement specialist option. Graduation from the criminal justice degree in the criminal justice corrections and generalist options requires a minimum 2.0 GPA.
College Degree Criminal Justice Graduation Requirements
Graduates from the Criminal Justice degree program must complete all of Ferris State general education requirements as outlined in the General Education section of the criminal justice course catalog, and have an ACT math sub score of 24, or complete MATH 115 or pass the Math proficiency exam.
If you would like more information on Criminal Justice Bachelor Degree Programs at Ferris State University call (231) 591-2000.
About Ferris State University: College classes including our criminal justice degree program, are taught at all levels by professional teachers, not graduate assistants. College students that major in criminal justice at Ferris State University, study in more than 170 different college educational programs - including doctorate degrees, masters degrees, bachelors degree criminal justice and associate degree criminal justice programs.

Ferris State University offers a wide variety of scholarships and financial aid. A majority of our students receive financial aid assistance. We encourage you to explore this website for more information on available scholarships and financial aid opportunities at Ferris State University. Ferris State provides all enrolled students access to a variety of academic skill-building opportunities that will assist them in their pursuit of academic excellence in a format that accommodates various learning preferences and schedules. At FSU students experience small classes with individual attention in 170 career-oriented majors leading to job placement for our graduates. FSU students also enjoy 220 student organizations for fun in a relaxed, hometown setting in the heart of Michigan's recreation area.

The group presentation, by one of our admissions recruiters, includes information on academic offerings, scholarships, housing, student life, and costs. A question and answer period follows the presentation and includes a few surprises! Lunch is provided at one of our well known dining facilities on campus. After lunch, guests may take part in a walking tour of campus led by one of our exceptional student guides. The walking tour takes approximately 1 hour.

If you would like more information on Criminal Justice Degree or would like to talk with or visit our campus in Big Rapids, Michigan contact us.

To Learn More About Ferris State University click here for the Mission Statement.