Bachelors Degree Advertising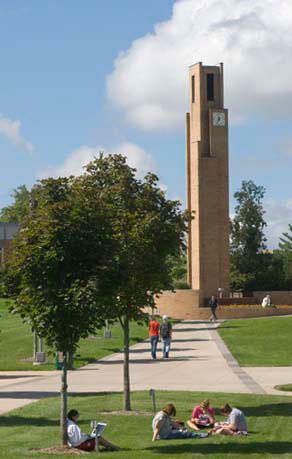 Why Major in Advertising?
If you choose to enroll in Advertising as a college major, you will be one of a very few select college students to receive a degree in advertising in a College of Business setting. The emphasis of your college advertising degree will not be in the creation of advertising copy or illustration, but in developing advertising campaigns that effectively communicate an organizations brand messages.
As a graduate of the Ferris State advertising degree program, you will be highly sought by companies and/or ad agencies looking for people with a solid grounding in business that are capable of managing client relationships and building marketing success.
In our Michigan advertising degree courses you will learn such concepts as:
Understanding markets and media
Learning how corporations communicate effectively with advertising
Advertising is in demand worldwide and often serves as the bridge builder between your organization and the customers who desire to use your brands and organizations core products and services.
College Advertising Degree students often find themselves working in a very competitive, challenging and rewarding advertising career. Your advertising career ladder often will lead to high-paying senior management, executive and/or leadership positions.
The advertising degree program is based on the idea that there is no substitute for experience. As an advertising degree student, you become directly involved in the advertising process. You write copy, develop traditional offline and Internet advertising campaigns and create advertising strategies. In addition, an advertising internship program allows you to gain on-the-job experience at leading advertising agencies while earning University credit and a paycheck.
Advertising College Graduates Get Great Jobs
Advertising is a field that offers an astonishing number and variety of specialized career opportunities. It encompasses all the facets of corporate branding, corporate communications, including general advertising, sales promotion, direct marketing, publicity, trade shows and more. Employment positions in the advertising industry include account executives, copywriters, creative directors, managers, media planners and buyers, salespeople and researchers.
Bachelor's Degree Advertising Admission Requirements
Applicants of the Ferris State college advertising degree program must present evidence of graduation from high school or the GED. To enter a Bachelor of Science degree (B.S.) Program in Business, applicants are expected to meet two of the following: a minimum high school grade point average of 2.50 (on a 4.00 scale); ACT math score of 19 or higher; an ACT reading score of 19 or higher.
College Degree Advertising Graduation Requirements
The Advertising degree program at Ferris State University leads to a Bachelor of Science Degree in business. Graduation from the advertising program requires a minimum 2.0 GPA in core classes, in the major and overall.
If you would like more information on Advertising Degree Programs at Ferris State University call (231) 591-2000.
About Ferris State University: College advertising classes including our advertising degree program, are taught at all levels by professional teachers, not graduate assistants. College students that major in advertising at Ferris State University, including our Advertising BS Degree students, study in more than 170 different college educational programs - including doctorate degrees, masters degrees, bachelor's degrees and associate degree programs.

Ferris State University offers a wide variety of scholarships and financial aid. A majority of our students receive financial aid assistance. We encourage you to explore this website for more information on available scholarships and financial aid opportunities at Ferris State University. Ferris State provides all enrolled students access to a variety of academic skill-building opportunities that will assist them in their pursuit of academic excellence in a format that accommodates various learning preferences and schedules. At FSU students experience small classes with individual attention in 170 career-oriented majors leading to job placement for our graduates. FSU students also enjoy 220 student organizations for fun in a relaxed, hometown setting in the heart of Michigan's recreation area.

The group presentation, by one of our admissions recruiters, includes information on academic offerings, scholarships, housing, student life, and costs. A question and answer period follows the presentation and includes a few surprises! Lunch is provided at one of our well known dining facilities on campus. After lunch, guests may take part in a walking tour of campus led by one of our exceptional student guides. The walking tour takes approximately 1 hour.

If you would like more information on Advertising Degree or would like to talk with or visit our campus in Big Rapids, Michigan contact us.

To Learn More About Ferris State University click here for the Mission Statement.