Associates Degree Dental Hygiene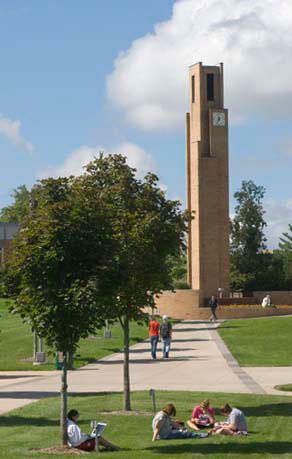 Why Major in Dental Hygiene?
The Dental Hygiene degree program at Ferris State is the largest in the State of Michigan and one of the largest Dental Hygiene AAS degree programs in the nation. Our dental hygiene degree program enjoys a reputation of educational excellence, with expert faculty who are recognized at the state, national and international levels within the discipline of dental hygiene for the delivery of innovative academic and continuing education.
Dental hygiene is a practice area that continues to grow with the increased consumer awareness of the importance of good oral hygiene in the prevention and detection of systemic disease processes. The dental hygiene industry will continue to grow based on the increasing focus on preventative dental care needs of the public.
Advance Your Career with a Dental Hygiene Degree
Completion of the three-year Associate Degree in dental hygiene and applied science, and final written and clinical exams enables the graduate to sit for the state licensure exam. Student clinical experiences occur within the college as the students work with patients from the University, community, and local schools in the College's 30-seat state of the art Dental Hygiene Clinic.
College Graduates in Dental Hygiene Get Great Jobs
Dental hygienists are professionals, licensed by the state in which they practice, who complete extensive educational and clinical preparation in preventive oral health care. A dental hygienist is a clinician, oral health care educator, health promoter, consumer advocate, administrator, and researcher.
AAS Degree Dental Hygiene Admission Requirements
Dental hygiene degree students must be admitted to the university. To be qualified to enter the professional sequence of the dental hygiene degree program, a student must have earned at least a 2.5 GPA with a minimum grade of a C in the following courses or their equivalent: MATH 110 (alternate MATH ACT subscore of 19 or above); BIOL 108; MRIS 102; ENGL 150; SOCY 121; CHEM 114, BIOL 205, COMM 105 or COMM 221 and PSYC 150 with a grade of C or better.
The responsibilities of a dental hygienist include the development, implementation, and evaluation of a dental hygiene plan of care that is based on the needs of the patient.
Clinical services can include:
The evaluation and monitoring of medical and dental health histories
Examining, assessing, and documenting oral health conditions
Exposing, processing and interpreting x-rays
Removal of calculus and stain that form on the teeth
Application of caries-preventive agents such as fluorides and pit and fissure sealants
Delivery of dietary education and counseling
Design and implementation of community or school oral health programs
Delivery of local anesthesia and nitrous oxide
Accelerated employment growth for professional dental hygienists with a college degree in Dental Hygiene is expected for several years in response to increasing demand for dental care. Earnings of dental hygienists are affected by geographic location, employment setting, education, and experience.
The average hourly wage for dental hygienists in Michigan is $26 – $30 per hour in private dental practice employment settings. Dental hygienists who work for school systems, public health agencies, the federal government, or state agencies usually have substantial benefits.
To assure aas degree college students of a quality technical education in classroom/lab and clinical practice, enrollment is limited. Dental Hygiene Associate degree students who meet or will have met the dental college hygiene program's qualification criteria by the end of Spring semester are required to apply to the program's professional sequence between January 15 and January 30 of the year prior to the August professional sequence entry. Admission will be based upon date of qualification.
College Degree Dental Hygiene Graduation Requirements
The six-semester college dental hygiene degree program leads to an associate in applied science degree. Students must earn a grade of C or better in major and core courses and meet all the general education requirements as outlined on the General Education website.
If a dental hygiene degree students interrupt progression in the professional sequence of the college dental hygiene program, re-entry cannot be guaranteed due to space limitations.
If you would like more information on the Dental Hygiene Degree Program at Ferris State University call (231) 591-2000.
About Ferris State University: College classes including our Dental Hygiene Degree Program, are taught at all levels by professional teachers, not graduate assistants. College Students at Ferris State University, including our Dental Hygiene Degree students, study in more than 170 different college educational programs which may include an Associate Degree in Applied Science degree programs or Dental Hygiene AAS Associate Degree Program in.

Ferris State University offers a wide variety of scholarships and financial aid. A majority of our students receive financial aid assistance. We encourage you to explore this website for more information on available scholarships and financial aid opportunities at Ferris State University. Ferris State provides all enrolled students access to a variety of academic skill-building opportunities that will assist them in their pursuit of academic excellence in a format that accommodates various learning preferences and schedules. At FSU students experience small classes with individual attention in 170 career-oriented majors leading to job placement for our graduates. FSU students also enjoy 220 student organizations for fun in a relaxed, hometown setting in the heart of Michigan's recreation area.

The group presentation, by one of our admissions recruiters, includes information on academic offerings, scholarships, housing, student life, and costs. A question and answer period follows the presentation and includes a few surprises! Lunch is provided at one of our well known dining facilities on campus. After lunch, guests may take part in a walking tour of campus led by one of our exceptional student guides. The walking tour takes approximately 1 hour.

If you would like more information on Dental Hygiene Degree or would like to talk with or visit our campus in Big Rapids, Michigan contact us.

To Learn More About Ferris State University click here for the Mission Statement.