Michelle Rasmussen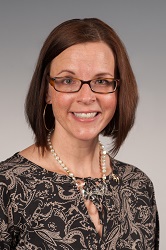 Communications Officer, Office of the President
Michelle Rasmussen serves as the Communications Officer for the University president. Her responsibilities include developing internal and external communications, composing articles, writing various reports and maintaining the Executive Division website. She joined the President's Office in August 2016.
Michelle has more than 20 years of experience in marketing, public relations and communications in the fields of higher education and workforce development.
She received her Master of Business Administration from Ferris State University and her bachelor's degree in Health Communications from Grand Valley State University. She currently serves as president of the Big Rapids Public Schools Board of Education and serves as an executive committee member of the Mecosta County Development Corporation.
Contact Information
1201 S. State Street
CSS 301
Big Rapids, MI 49307
(231) 591-3965
[email protected]