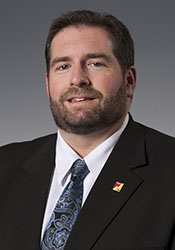 Jeremy Mishler
Associate Vice President for External Relations
Executive Director of the Ferris State University Alumni Association
(231) 591-2345
Prakken 101A
[email protected]
Contact the Office of External Relations
The Associate Vice President for External Relations reports to the Vice President for University Advancement and Marketing and is responsible for leading, developing and executing the alumni relations and marketing and communications functions (institutional marketing, news/social media, photographic services and web content services) that support the overall alumni relations, advancement and marketing goals of Ferris State University. In addition, the AVP will provide leadership and staff support to the Ferris State University Alumni Association serving as the Executive Director.
Provide leadership and management for the development, implementation and evaluation of the University's comprehensive image, student-recruitment, and alumni and advancement-related marketing and communications strategies. These strategies will include a variety of initiatives engaging our external and internal audiences through various multichannel direct marketing methods, alumni/other constituent events, news services (press releases, feature stories, videos and press conferences), and ongoing interactive social media and web content activities.
Assist University spokespersons and other University leaders as it pertains to proposed actions and strategies for the media and other public relations matters. Additionally, serve as a secondary/back-up crisis manager supporting the Vice President for University Advancement and Marketing, News Services and Social Media Manager, and the Web Content Manager.
Provide leadership and management for the development of all alumni outreach activities, affinity services and student-alumni programming to increase overall participation while continuing to effect an attitudinal shift among alumni and students to engage them into a stronger culture of philanthropy at Ferris. Establish goals and benchmarks to assess and evaluate the implementation and effectiveness of these programs, services and materials. Collaborate with deans and department heads, to identify and more fully engage alumni leaders involved with their advisory board and/or alumni boards and to initiate and/or increase the annual/major giving of their alumni leaders.
Manage a portfolio of annual and major alumni-donor prospects, to cultivate, solicit and steward annual and major gift support for the University.
Serve as the Executive Director of the Ferris Alumni Association providing leadership and coordination of the Association's board of directors meetings, services and activities.
Education
Ferris State University
Master of Science, Criminal Justice Administration (1999)
Bachelor of Science, Criminal Justice (1998)
Associate of Arts, Criminal Justice (1996)
Affiliations/Trainings
Council for Advancement and Support of Education (CASE) (1998-Present)
-Elected to the CASE District V Board of Directors (2018-Present)
Academic Impressions Conference

–

A Comprehensive Approach to Modern Campaigns (2017)
Ferris State University Senior Leadership Development Program (2017)
CASE Conference for Media Relations Professionals and Media Training Workshop (2016)
Ruffalo Noel Levitz National Conference on Student Recruitment, Marketing and Retention (2015)
Michigan Association of Public Universities – Alumni Directors' Council (2000-2015)
-Council Co-Chair (2007-2015)
Academic Impressions
-Measuring Alumni Engagement (2014)
Association of Governing Boards of Universities and Colleges (AGB) Annual Foundation Leadership Forum

–

Public Colleges and University Foundations (assets under $100 million) (2007-2009)
CASE Annual Giving Conference (2006)
Indiana University Lilly Family School of Philanthropy (2005)
-The Fund Raising School, "Building the Annual Fund"
Michigan Advancement Council Member (2000-2002)
Annapolis Institute for Alumni-Admissions Program Development (1999)
CASE Summer Institute on Alumni Relations (1999)
Community Outreach
Big Rapids Public Schools Board of Education (2015-Current)
-Board President (2018-2019)
Mecosta-Osceola Counties 911 Central Dispatch Authority (2012-Current)
Mecosta County Economic Development Corporation (2008-Current)
Friends of Ferris Political Action Committee (2007-Current)
-Board Chair (2012-Current)
Mecosta/Osceola United Way (2000-Current)
-Board President (2003-2007)
Big Rapids Youth Travel Basketball Board (2016-Current)
Michigan Department of Health and Human Services, Mecosta-Osceola Counties Board of Directors (2012-2014)
Mecosta County Planning Commission (2012-2014)
Rotary International

–

Big Rapids Rotary Club (2000-2010)
-Board of Directors (2002-2004)
Mecosta County Area Chamber of Commerce (Member 1998-Current)
-Board President (2008), Executive Board (2006-2011)
American Red Cross

–

Mecosta Osceola Chapter Board of Directors (2011-2012)
City of Big Rapids

–

Zoning Board of Appeals (2001-2007)
-Board Chair (2004-2007)
-City Manager Search Committee (2003)
Big Rapids Riverwalk Project Development Committee (2002-2005)
Big Rapids Junior Chamber of Commerce (Jaycees) (2000-2005)
Awards
2012 United Way "Live United" Campaign Service Award
2011 Lambda Chi Alpha – Honorary Member
2010 Mecosta County Area Chamber of Commerce, Leadership Mecosta Alumnus of the Decade
2010 Mecosta County Area Chamber of Commerce, Leadership Mecosta Alumnus of the Year
2004 Distinguished Staff Award, Ferris State University
2004 CASE V Gold Award, Special Events, Individual Event, for the "2004 Hometown Tour"
2004 Golden Key International Honour Society – Honorary Member
---
Marketing Communications
News Services
Photo Services
Web Content