Associates Degree Automotive Service Technology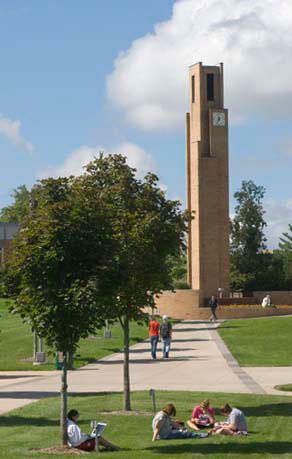 Automotive Service Technology
Bachelor Degrees:
Associates Degrees:
Automotive Minor Degree:
Automotive Certificate Programs:
The importance of professional automobile repair in today's mobile society cannot be overstated. Because vehicles have skyrocketed in cost and are kept in service longer, there is a shortage of trained, knowledgeable technicians. Skilled technicians are needed to perform preventive maintenance, repairs and adjustments. Ferris State University has been educating automotive service students for more than 50 years.
The Automotive Service Technology major at Ferris features instruction in modern facilities with an emphasis on computer integration and Controller Area Networking. The AST degree is NATEF certified and students are trained in all ASE areas, including a solid overview of new emerging technologies.
Students complete more than 1,080 hours of instruction on more than 100 late-model vehicles under the supervision of full-time automotive service faculty. With the associate degree, students who wish to build upon their education may easily pursue a bachelor's degree in Automotive Management, or Automotive Engineering Technology within the School of Automotive and Heavy Equipment.
The degree prepares you to:
Utilize specialized equipment and tools to diagnose and repair vehicle systems
Interpret data to decide on a course of action
Adjust, repair or replace equipment components
Perform preventive maintenance tasks
Employment opportunities exist in every community and in all parts of the country. The career path open to graduates is from service technician to shop foreman, to manager, or even to business owner. With experience and continued education, opportunities are unlimited.
STRENGTHS
Ferris has prepared technicians for industry since the early 1950s
11 full time A.S.E. master certified faculty members
Ferris is an ASE test site
Over 100 late-model vehicles onsite to complement instruction
Curriculum focuses on current technology; products 7 years old and newer
Excellent industry and alumni support
The degree feeds directly into multiple bachelor degree options for students wishing to continue their education
OFFERINGS
While enrolled in AST, students have the option of also obtaining two additional certificates, one in Performance Motor Sports and a second in Performance Machining. These certificates provide added focus on engine machining/rebuilding, engine dynamometer and flow bench usage and engine testing and analysis.
ADMISSION REQUIREMENTS
Admission to the College of Engineering Technology is open to high school graduates who demonstrate academic preparedness, maturity and seriousness of purpose with backgrounds appropriate to their chosen program of studies. Among first-time students in our technical programs, the average high school GPA is 2.8 and the average ACT composite score is 20.
Students entering the Automotive Service Technology major must have a high school diploma with a minimum 2.7 GPA and ACT math subscore of 19 or better. Students not meeting entry requirement are encouraged to apply for acceptance into the University to prepare for entry into AST. Enrolled students need to furnish their own hand tools, protective eye devices, and appropriate lab attire.
GRADUATE OPTIONS
Upon completion of the Associate in Applied Science degree in Automotive Service Technology, graduates pursue Bachelor of Science degrees in the following areas:
Automotive Engineering Technology
Automotive Management
Technical Education
Other graduates move right into the workplace as:
Dealership technicians
Independent shop technicians
Fleet technicians
ENROLLMENT
If you would like more information on Automotive Degrees and Associate Degree Programs in Automotive Service Technology at Ferris State University call (231) 591-2000.
About Ferris State University: Ferris State University offers a wide variety of scholarships and financial aid. A majority of our students receive financial aid assistance. We encourage you to explore this website for more information on available scholarships and financial aid opportunities at Ferris State University. Ferris State provides all enrolled students access to a variety of academic skill-building opportunities that will assist them in their pursuit of academic excellence in a format that accommodates various learning preferences and schedules. At FSU students experience small classes with individual attention in 170 career-oriented majors leading to job placement for our graduates. FSU students also enjoy 220 student organizations for fun in a relaxed, hometown setting in the heart of Michigan's recreation area.

The group presentation, by one of our admissions recruiters, includes information on academic offerings, scholarships, housing, student life, and costs. A question and answer period follows the presentation and includes a few surprises! Lunch is provided at one of our well known dining facilities on campus. After lunch, guests may take part in a walking tour of campus led by one of our exceptional student guides. The walking tour takes approximately 1 hour.

If you would like more information on Associate Degree Automotive or would like to talk with or visit our campus in Big Rapids, Michigan contact us.

To Learn More About Ferris State University click here for the Mission Statement.