Technology Assistance Center (TAC) links
Instructions for Accessing MyFSU
1. Obtain your Ferris State University student ID number from your acceptance letter.
2. Go to
www.ferris.edu/techsupport
3. Click on the "Id and Passwords" link on the left menu.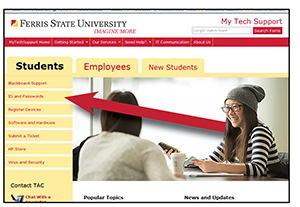 4. Follow the instructions to set up your password and log-in for MyFSU. You must set up your computing ID and password to access MyFSU in order to view your class schedule, access your FSU email account, and access any of your courses that are using BlackBoard.
5.
Write down and/or memorize your computing ID and email address.
6. Go to the MyFSU log-in screen. Access the MyFSU log-in screen by visiting www.ferris.edu and clicking on the "MyFSU" link in the black menu bar at the top of the page.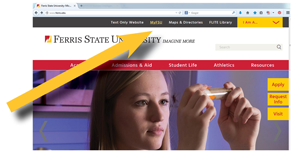 6. Enter your FSU computing ID and password to log-in on the MyFSU log-in page.