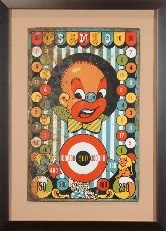 January 14th – February 23rd, 2019
Reception: February 15th 5-7pm with David Pilgrim
Hateful Things and More

From Aunt Jemima advertisements to the board game Ghettopoly, American popular culture is replete with racist images. The Jim Crow Museum of Racist Memorabilia features an extensive collection of racist objects that trace the history of the caricaturing and stereotyping of African Americans. The museum, located at Ferris State University, is offering "Hateful Things," a traveling exhibition of these images to further the museum's mission of stimulating the scholarly examination of historical and contemporary expressions of racism, as well as promoting racial understanding and healing.
The current exhibition will also include a small selection of photographs from two recent donations to the museum: David Levinthal's Blackface series and Bruce Davidson's iconic civil rights images
---
Carrie Weis
Museum & Gallery Director
Ferris State University
Fine Art Gallery