Provost and V.P. for Academic Affairs
by Sandy Gholston - July 23, 2010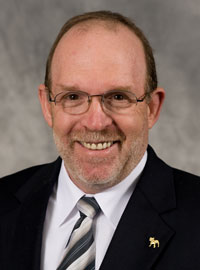 Fritz Erickson quickly realized he and his family found a great new home as he accepted an opportunity to become Ferris State University's new provost and vice president for Academic Affairs last year.
Passionate about education, Erickson came to appreciate that Ferris' educational mission was closely aligned with his own strong teaching and learning values. Erickson, strengthened by more than 25 years of administrative experience in higher education, was heartened to learn strong educational values are both campus and community wide. As a man who has built a career of more than a quarter century in education, Erickson's confidence that he had found a great new home base for himself and his family was further solidified.
"I have been a dean for nine years, and the opportunity to expand my interests and serve as a provost, particularly at Ferris, has great appeal," said Erickson, who served as dean of the College of Professional and Graduate Studies at the University of Wisconsin-Green Bay for six years prior to his appointment at Ferris. "Ferris' unique combination of professional and liberal arts programming is a real fit for me along with the opportunity to work with multiple-location programming."
He was further heartened by the friendliness of the community.
"People in the Ferris community like to visit and talk which is really great for me," said Erickson, who earned his bachelor's degree at Western Michigan University and his master's and doctoral degrees at the University of Northern Colorado with an emphasis on Educational Psychology, Technology and Research Methodology. "I have enjoyed stopping students walking across campus to have conversations, attending events on campus and the wonderful community opportunities. This has all reinforced the idea that Ferris is really welcoming.
"I've had a chance to meet a lot of great people. I am deeply impressed not only with the friendliness of the community but with the passion people have for education here at Ferris," added Erickson, who has roots in Michigan as his wife, Jan, lived in Saginaw, and the family has relatives in Kalamazoo, Grand Rapids, Muskegon and elsewhere. "It has been a wonderful transition in terms of coming to Ferris because of the welcoming and warm attitude. It has been astounding."
As much as he enjoys the community, however, Erickson remains focused on education to further develop what was long ago started at Ferris.
"Dr. Erickson brings an exceptional background of experience and accomplishment to our University," Ferris President David Eisler said. "In addition to his leadership work at the university level, he has been very successful in securing grant support for cooperative international projects, diversity efforts and in encouraging student educational success."
Erickson, who first got to know the University as it celebrated its 125th anniversary, is knowledgeable about the history of Ferris, its mission and core values.
"Our mission of a career-oriented education is as relevant today as it was when this great university was founded by Woodbridge Ferris," he said. "We have wonderful professional and technical programs that serve important community needs. These programs, along with our dedicated faculty and staff, make Ferris the place to be for the next 125 years."