Coordinator of Student Life
by Antonio Coleman - May 30, 2012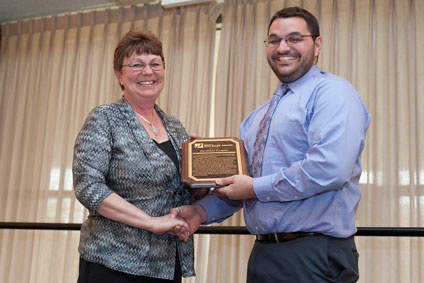 As students walk across the stage to shake hands with President David Eisler and place their graduation tassels to the left, Student Life coordinator Nick Campau sees success.
"During graduation I get the opportunity to meet families and see the work I put into the students at Ferris," Campau said. "That's the best part of my job."
Personal testimonies shared by students he mentors are one of the most important gifts he receives for coordinating student life-related initiatives within the Office of the Dean of Student Life.
"I had a student tell me, 'Nick if it wasn't for you, I wouldn't be in school,'" Campau said. "That was the greatest moment I've had as a coordinator."
Campau has established a career of shaping opportunities for incoming students to become future student leaders. He said the key to being a positive student leader and mentor is having the drive to complete tasks.
"The biggest thing I look for is follow-through," Campau said. "It's being able to walk the walk."
Since 1884, founder Woodbridge N. Ferris' visionary mission of providing students with an opportunity to achieve their dreams has molded Ferris into a university of great dreamers. For Campau, providing students the opportunity to bring their college goals to fruition has become the focus of his journey as a campus leader.
A 2007 graduate of Ferris State University's Criminal Justice program, Campau has been helping students gain a fulfilling college experience since becoming coordinator of Student Life in 2010. Since then, Campau has seen a number of positive changes take place to increase opportunities for minority students on campus.
"Our diversity has been the biggest improvement I've seen at Ferris," Campau said. "I see diversity in everything we do. It really speaks to Mr. Ferris himself."
Campau credits student opportunities such as the Ferris Youth Initiative mentoring program for low-income orphans and those who have "aged out" of foster care, and the Office of Multicultural Student Services for creating an inclusive campus environment.
Campau received a 2012 Distinguished Staff award for his involvement in campus and community programs, including American Red Cross, Salvation Army, Jaycees and WISE.
When he is not helping facilitate opportunities for leadership development, volunteer service, programming and other initiatives, Campau said he enjoys spending time with his wife and playing card games.
"I'm a big-time card player," he said. "I love playing euchre, and I just recently learned how to play another card game called Hand and Foot."
Though many students know Campau as coordinator of student life, at one time he considered working for the U.S. Secret Service.
"I was fascinated by the chance to work for the Secret Service," Campau said. "I thought it was the neatest, most selfless experience a person could have."
Still, with more than three years of student mentoring experience, Campau said he cannot see himself doing anything else.
"I like this job too much. In an ideal world, I would love to devote all my time to the Ferris Youth Initiative," Campau said.
As Campau carries on the tasks of mentoring future generations of Ferris alumni, he will continue to see the everlasting effect his efforts will have on student life.

Antonio Coleman is a News Services student writer in University Advancement and Marketing.