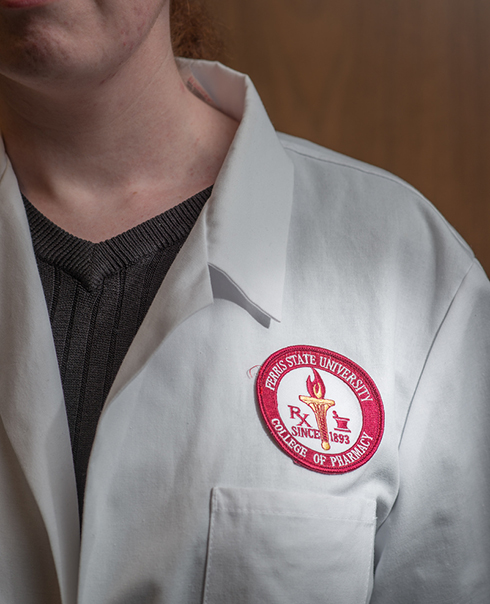 Ferris State University College of Pharmacy professors and students will utilize a Michigan Department of Health and Human Services grant to advance the assessment of the effectiveness of antibiotic treatments in clinics and healthcare systems across the state.

Recently announced Michigan Department of Health and Human Services funding allows Ferris State University College of Pharmacy professors and students to advance the assessment of the effectiveness of antibiotic treatments in clinics and healthcare systems across the state.
Associate professor of Pharmaceutical Science Minji Sohn is the principal investigator for this study. Professor of Pharmacy Practice Michael Klepser is the co-investigator. The MDHHS grant provides $611,929 in funding through July 2024, supporting the Collaboration to Harmonize Antimicrobial Registry Measures (CHARM).
"We began our research after a student expressed a desire to assess the propriety of prescribing antibiotics as a routine response to inpatient treatment," Klepser said. "Drug-resistant bacteria present significant obstacles in the effort to provide effective healthcare. So this effort to quantify and assess best practices may produce improved outcomes, as we offer our partner institutions the ability to benchmark usage and determine intervention effectiveness."
Sohn said the funding allows further development of a digital dashboard and supports continued research by College of Pharmacy students working with data from participating health systems.
"I am working with Michael on recruiting additional healthcare providers, outpatient health facilities and appropriate nonprofit operations," Sohn said. "He has been involved since the inception of CHARM, but this is truly a collaborative effort by faculty from our college. Assistant professor of Pharmacy Practice Benjamin Pontefract is coordinating research activities while Pharmacy Practice professor Dean VanLoo is focusing on our educational program."
Klepser noted a data analyst will join the CHARM study group, thanks to the MDHHS funding.
Thomas Dowling, director of the Office of Research and Sponsored Programs, said such studies done on campus, supported by state and federal funding, are a tribute to the excellence of the College of Pharmacy.
"This prestigious grant is an example of our expert faculty and students working to solve real-world problems at the intersection of health care systems, pharmacy practice and informatics," Dowling said.
The professors involved in this collaboration have begun presentations on data gathered through CHARM in their Outpatient Microbial Stewardship Innovations Symposium, or OASIS.
"CHARM is the centerpiece of the symposium," Sohn said. "The dashboard provides our partners site-specific information they can access virtually, but there is much to be gained by considering best practices in this format."
"We are reconnecting with College of Pharmacy alumni as a result of these presentations," Klepser said. "Primary care practitioners, clinic professionals and pharmacists can all benefit from these findings, so we are aggressively recruiting new health systems and practice types, with hopes to add urgent care facilities, dental operations and rural clinics to our database as well as cultivating out-of-state partnerships."
Klepser, Pontefract and Sohn were joined by 2014 College of Pharmacy alumnus Nick Torney of Munson Medical Center and Anne Haddad of the Michigan Department of Health and Human Services on the Ferris campus Thursday, Aug. 18, as presenters on the CHARM research project, part of the 2022 Outpatient Antimicrobial Stewardship Innovations Symposium.
"CHARM demonstrates the impact of faculty and students working directly with practitioners to address a perplexing clinical issue. Patients are ultimately benefited," said Stephen Durst, dean of the College of Pharmacy. "Efforts such as this, to engage with the healthcare community, align with the college's and university's strategic planning."
"We are excited about the potential to create a collaborative learning community, thanks to the support from the MDHHS," Klepser said. "There are data from over 100 facilities, which are being incorporated into the dashboard. I believe the students who support our research are gaining significant experience and agree that the stature of our college and university are enhanced, because of this project."
Anne Haddad is an antimicrobial stewardship coordinator for the MDHHS, serving as a subject matter expert for the department. Haddad said the CHARM project is exciting in terms of its potential.
"We see unique qualities in this project that will make prescribing antibiotics more appropriate," Haddad said. "CHARM is unique nationally, providing data to caregivers being a most important aspect of the program. That gives us great hope."
Haddad said that MDHHS has seven research programs they are funding, focused on reducing antibiotic use. The CHARM grant is the largest of those awards.