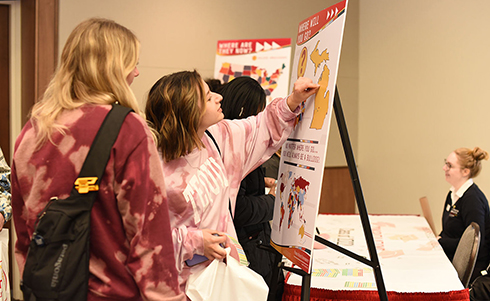 Making memories and securing the materials necessary to participate in Ferris State University's Fall 2022 commencement exercises can be taken up Tuesday, Nov. 1, as Grad Fair will be held in the ballrooms of the David L. Eisler Center between 11 a.m. and 4 p.m.

Ferris State University's Alumni Relations staff is leading the effort to host the Fall 2022 Grad Fair on Tuesday, Nov. 1, from 11 a.m. to 4 p.m. in ballrooms A and B of the David L. Eisler Center. The biannual event offers opportunities for graduating students to finalize arrangements before commencement ceremonies in December.
Assistant Director of Alumni Relations Ben Withey noted a streamlined process to improve efficient interaction with vendors and university staff.
"We believe our adjustments will make for a more effective experience for these students, some of whom may have just an hour between classes to participate," Withey said. "Our key partners with Ferris Outfitters and Commencement Services stand ready to process cap and gown purchases while college representatives can assure our students that they have met their qualifications to receive diplomas."
In addition to opportunities to purchase regalia and personal items such as class rings or graduation announcements, representatives will be available to assist students transitioning from collegiate to professional life.
"We will have two mortgage lenders on hand to explain their products as students relocate to begin their careers," Withey said. "Our partners with insurance companies can also help identify what graduates may need to move securely into this new chapter in their lives."
Graduates can pose for photos with Brutus The Bulldog or their classmates in ballroom C. Withey also noted the event offers information for verifying commencement tickets, sign-up for raffle prizes and a range of vendors to consider.
For more information about Grad Fair, contact the Alumni Relations Office at (231) 591-2345.