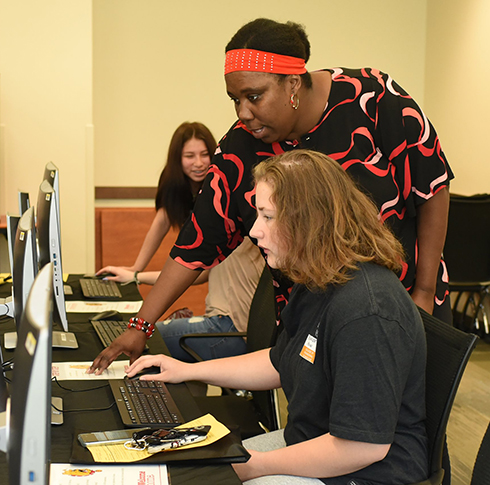 Ferris State University students, faculty and staff went above and beyond to help new students and parents during orientation in Summer 2022.

Acts of kindness and positive social media portrayals are among the goals for Ferris State University's Alumni Association as they prepare for their third connection with "Make A Difference Day" on Saturday, Oct. 22.
Assistant Director of Alumni Relations Ben Withey said participation in this activity started with sharing good deeds during the 2020 pandemic.
"There was a great response then, we continued the effort last year, and the growth for 2022 has been incredible," Withey said. "We gave out all of our participants 'thank you' packages, which include a Make A Difference t-shirt, and our alumni keep calling about how they intend to volunteer their time."
Withey said each alum participant chooses the service or support they offer that day. The Alumni Association asks participants to structure their intent for acts of kindness.
"It can be as basic as raking a neighbor's lawn if they could use help with that chore to an alumnus who purchased the evening meal for a homeless shelter where they live," Withey said. "We are thankful for all the efforts made by our Bulldog family across the United States, this day."
The Alumni Association office welcomes email inquiries from anyone wishing to join those who have already registered their intentions.
"We ask that our alumni take a picture of themselves doing their particular good works, with a tag of @FerrisAlumni on their post, so we can spread a positive message on Make a Difference Day," Withey said. "We look forward to seeing what develops from the creativity and kind nature of Ferris graduates and friends."