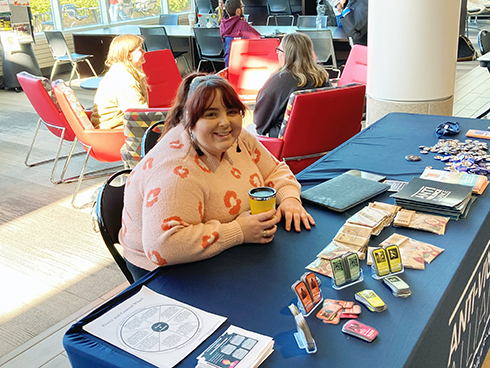 Anti-Violence Alliance Peer Educator Emma Reid offers items and information in Ferris State University's David L. Eisler Center, as the alliance does outreach during Domestic Violence Awareness Month.

During Domestic Violence Awareness Month, the professional staff and student peer educators of Ferris State University's Anti-Violence Alliance are choosing an active yet subtle outreach approach on campus.
Emma Reid, a Hospitality Management student from Mount Pleasant, was staffing a table with takeaway items and information as an AVA Peer Educator on Tuesday, Oct. 4, in the David L. Eisler Center.
"We are trying to spread awareness of the Alliance and that this is Domestic Violence Awareness Month," Reid said. "One of the popular pieces is our pins. Students like to put them on their backpacks, so the message goes out to the entire campus."
Information table visitors could use QR codes and take printed materials related to domestic violence recognition and prevention. Reid said the Anti-Violence Alliance's work is important to her and that students can expect to find a peer educator Tuesdays and Thursdays during October.
"We are happy to give of our time to help other students know what the Alliance is hoping to accomplish on our campus," Reid said.
AVA Project Director Raven Hills said their programming would continue into November, with informational tabling focused on promoting participation in a Candlelight Vigil on Wednesday, Nov. 9.
"This event is designed to honor the people in Michigan who have been killed in domestic violence incidents over the past year," Hills said. "We are pleased to collaborate with Sigma Gamma Rho, one of Ferris' Black Greek Council sororities, and welcome all students and the greater community to join us for this program, which begins at 6 p.m. (Nov. 9) in Room 217 of the David L. Eisler Center."
Ferris' Anti-Violence Alliance is supported by a grant from the U.S. Department of Justice's Office on Violence Against Women.