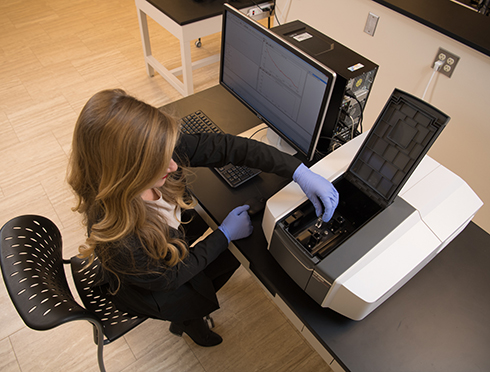 Here is a scene from inside the Shimadzu Core Laboratory for Academic and Research Excellence at Ferris State University in Big Rapids, Michigan.

Ferris State University opened the Shimadzu Core Laboratory for Academic and Research Excellence on the Big Rapids campus in September 2015. An in-kind grant of precision spectrometric and spectroscopic equipment from the Japanese instrument manufacturer made the opening possible and $1 million in institutional investment.
Now in its eighth year, Laboratory Director Sky Pike said the facility's array of technology to support academic and public health research has grown. He notes that this growth is thanks to government agencies' assistance, as they use academic laboratories as resources during significant public health developments.
"Making the lab a unifying place of learning for the university, the region and the state was one of my goals when I became director five years ago," Pike said. "With Ferris' Molecular Diagnostics program closing to students, we could bring on their fluorescent and ultraviolet microplate readers and a DNA/protein gel imager. We added microscopes from our Biology department and an additional third plate reader. The plate reader spectrophotometers allow our researchers to examine multiple samples at one time. These are just some devices seen as necessary to offer students seeking Bachelor of Science degrees the opportunity to learn on technology on par with what they would find in continued studies or as they enter their careers."
Pike said as technology grew and early research efforts were noted, the Shimadzu Laboratory became part of collaborative endeavors such as MiNet, the Michigan Network for Environmental Health and Technology, with E. coli testing of public beaches and SARS-CoV-2 in wastewater as their primary focus.
"The state of Michigan is a willing and capable partner, with the ability to leverage significant support for equipment and manpower," Pike said. "Funding from the Michigan Department of Environment, Great Lakes, and Energy (Mi EGLE) and the Michigan Department of Health and Human Services (MI DHHS) helped obtain a filtering apparatus and quantitative polymerase chain reaction (qPCR) instrument for beach water samples as well as an innovative and extremely sensitive PCR instrument called digital droplet (dd)PCR. Pike said state funding also added ultra-low temperature freezers and centrifuges to the lab so that samples could be processed swiftly and that these expansions of the laboratory's holdings have proven beneficial for Ferris' faculty researchers and student workers who assist in these studies."
Pike added, "The ddPCR was necessary equipment to monitor wastewater for the novel SARS-CoV-2 coronavirus as COVID-19 became part of the campus and global consciousness."
Testing wastewater samples to pinpoint SARS CoV-2 cases on campus and in the greater Big Rapids community was possible through two grants from MI DHHS and MI EGLE, totaling more than $2.3 million.
Pike said the laboratory's operational emphasis on public health screening continues, but there is also the opportunity for scholarly research and regional stewardship.
"Our facility has been extremely busy over the course of the pandemic monitoring SARS-CoV-2 in wastewater from 44 sites in six cities in northern West Michigan, which we met very capably," Pike said. "Now we can also turn our attention to other studies, focused more on E. coli assessment and general research activities. I believe we are now seeing the potential that this lab can present to the university," Pike said. "Our response to SARS-CoV2 was an asset because it showed what we are capable of by making use of this facility."
Pike further noted, "Many of these devices are absolutely vital for us to accentuate students' skills, by giving them exposure and experiences with modern and advanced scientific instrumentation. If we did not have the Shimadzu lab, many of our biomedical sciences students would only have rudimentary skills to offer potential employers and graduate programs that carefully assess their learning. Having experience with a liquid chromatography-linked mass spectrometer (LCMS) was an asset for a student four years ago who moved on to a position with the State of Michigan. Another student showed abilities with many of our instruments and is in his second year with the prestigious Scripps Research Institute in Florida, one of the top graduate programs in the country."
The first published research effort involving the Shimadzu Laboratory came in 2017, as Sean McCormick, the original director, collaborated with Associate Professor of Medicinal Chemistry Eric Nybo on Metabolic engineering of E. coli for the production of valerenadiene, to produce useful compounds from a medicinal herb. Most recently, Pike joined with others from MiNET to present their findings in Water Research on quantitative polymerase chain reaction readings to establish threshold values for rapid water quality monitoring at Michigan beachfronts.
"We have greater possibilities in terms of research capability, thanks to the LCMS and Gas Chromatography linked Mass Spectrometer instruments, along with plate readers and Polymerase Chain Reaction (PCR) equipment for DNA studies," Pike said. "These serve us in classroom instruction and specialized research. We are proud to be a critical link in the College of Pharmacy and College of Arts, Science, and Education infrastructure and an asset to the university's research landscape."