Three Distinguished Constructors were inducted into the Michigan Construction Hall of Fame, housed in the Granger Center for Construction and HVACR at Ferris State University. The three construction professionals, honored in Big Rapids on Thursday, Oct. 17, represent over 130 years of construction industry experience.
The three Distinguished Constructors honored were Thomas (Tom) DiPonio, of Detroit and Redford Township; Frank Jonna, of Detroit; and L.R. Swadley, of Marquette.
Tom DiPonio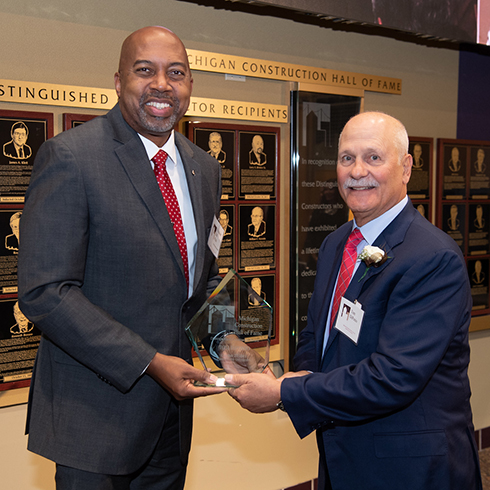 Tom DiPonio (right) is shown here with Ferris State University President Bill Pink.

DiPonio was born in Detroit and raised in Redford Township, MI. In 1965, his father formed his own company, Jay Dee Contractors, Inc., focused on open-cut and tunnel construction.
He attended the University of Detroit in the Civil Engineering program and co-oped in the family business. Upon graduation, he went to work at Jay Dee Contractors, Inc. in the field for four years as an operations manager before becoming the company's vice president. Five years later, in 1988, he was named its president.
Jay Dee Contractors, Inc. focuses on heavy underground construction and tunneling and is known as a jacked pipe tunneling method pioneer.
The company is one of North America's premier pressurized face tunnel contractors.
In 2015, DiPonio was inducted as a member of the Moles, a national heavy civil construction association based in New York. He is also a member of the Beavers, a West Coast heavy civil construction association, and the Groundhogs, an underground construction association based in Chicago.
He has served his industry through multiple industry associations and worked with the legislature to ensure lawmakers appreciate the funding mechanisms for the industry.
Frank Jonna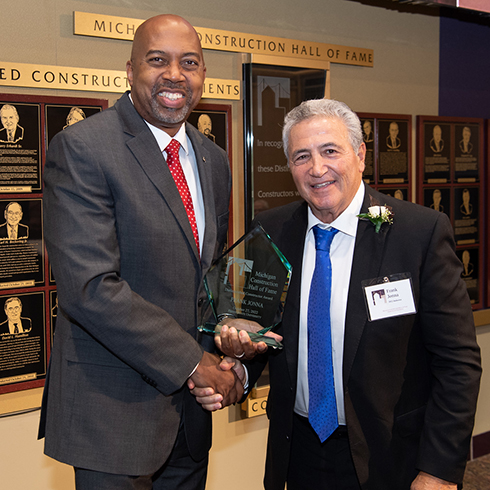 Frank Jonna (right) is shown here with Ferris State University President Bill Pink.

Born in Baghdad, Iraq, Jonna's family emigrated to Detroit, Michigan, when Frank was 6 months old. Frank began his construction career in 1972 as a laborer working for his brother – a role he considers the greatest job in construction. "You can walk away from it at the end of the day and say that you did your job," he said.
Frank became a partner in 1980. The company would experience its greatest growth and started the development side of the business. By 1999, Frank was named CEO of Jonna Companies, a holding company for Jonna Construction and Jonna Realty Ventures.
Jonna helped pave the way for the revival of Midtown and moved Jonna Construction to Detroit as a certified Detroit-Headquartered Business.
DiPonio has proudly given back to the community through his work with the Chaldean Chamber of Commerce, Catholic Central and construction of the Shenandoah Country Club.
L.R. Swadley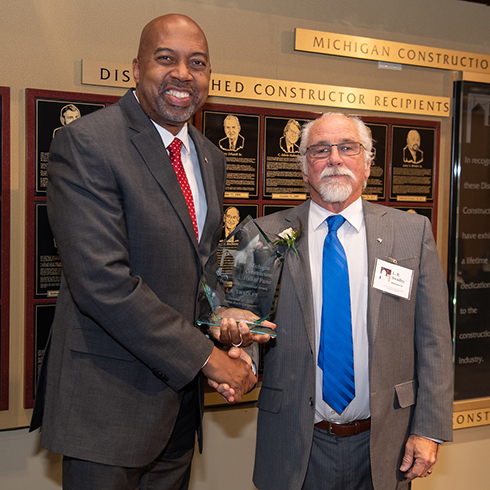 L.R. Swadley (right) is shown here with Ferris State University President Bill Pink.

Swadley was born in Oklahoma and raised in Texas but considers Marquette, Michigan his hometown.
In 1976 he moved to Marquette and formed his own business, featuring contracting roofing, framing, and rough carpentry before expanding to remodeling, custom homes and large community developments, including condominiums, commercial buildings and senior housing. Swadley's development projects are known for their focus on conservation areas and creating a sense of place for the homeowners.
For more information about the Michigan Construction Hall of Fame, visit the website.