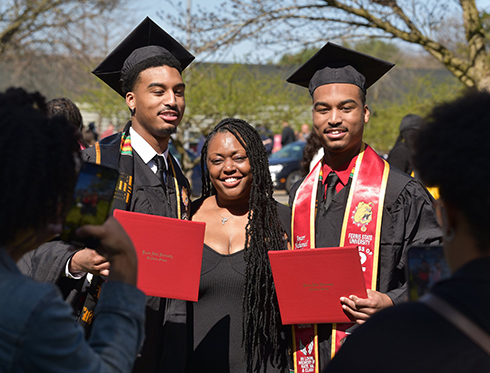 Ferris State University wrapped up its 2021-22 academic year on Saturday, May 7, with the last of its commencement ceremonies to honor the more than 2,100 who will graduate and the 1,600-plus who participated in ceremonies on Friday, May 6 and or Saturday, May 7.
Before officially becoming alumni of Ferris State University, graduates of the Class of 2022 were among those hearing inspiring messages while receiving words of wisdom. More than 1,600 students were among participants in five ceremonies Friday, May 6, and Saturday, May 7, in Big Rapids, enjoying celebrations of this accomplishment.
More than 2,100 students will graduate this spring during ceremonies that included the return of some graduates from the Class of 2020 and Class of 2021 who could not walk because of COVID-19 pandemic restrictions. This year's Big Rapids ceremonies featured three honorary doctorate recipients, all Ferris alumni. The honorees were Phil Hagerman, who received an Honorary Doctorate of Business and Industry; Big Rapids native Dana King, the recipient of an Honorary Doctorate of Humane Letters; and Dick Shaw, who was awarded an Honorary Doctorate of Industry.
David Eisler, who retires this summer after 19 years as Ferris president, spoke of the perseverance of graduates who have endured COVID-19 as an unexpected part of their college experience but now graduate as alumni.
"It's a pleasure to welcome the spring Class of 2022 and graduates from virtual commencements in 2020 and 2021," he said. "Collectively, you have overcome the challenges of a global pandemic, earning your degree in a time of uncertainty and significant change. I am pleased you joined us today to celebrate and reflect on your accomplishments at Ferris State University."
Amna Seibold, chair of the Board of Trustees, shared words of wisdom centered on the word collaboration, one of Ferris' core values.
"Collaborate. By that, I mean work with others and get advice from others. Talk things through with friends and colleagues," she said, welcoming those in attendance on behalf of her fellow trustees. "Collaboration opens your mind, brings in possibilities you may not have considered, and it makes you feel more confident in the decisions that you do make."
Eisler encouraged Ferris' newest alumni to remember those who stood by them on their journey to earning a college degree. He further reminded the graduates of the work ethic that has carried them to this point, which will serve them well in the future.
"As graduates, you represent the collective hopes and dreams of our institution. In your educational journey, you have overcome obstacles and challenges, experiencing both the highs and the lows that are a part of earning a college degree," Eisler said. "Through your hard work, sacrifice and dedication, you have made it to this significant milestone where one journey ends and another awaits you. At a time like this, you need to know that your success is built upon the collective efforts of so many people who care about you and take great pride in your growth and development."
The honorary doctorate recipients who spoke at the Big Rapids ceremonies have strong ties to the institution while achieving success as professionals.
Hagerman stands among three generations of Hagermans who have earned Ferris Pharmacy degrees. He co-founded Diplomat Pharmacy with his father and led this company for 27 years. During this time, Diplomat grew to be the largest independent provider of specialty pharmacy services in the country. He is a strong supporter of the university's first-ever comprehensive capital campaign, Now and Always, providing a $5 million lead gift to the College of Pharmacy and a second $5 million gift to elevate Ferris past its $115 million comprehensive campaign fundraising goal.
As a broadcast journalist in Los Angeles, San Francisco and on national television, King garnered five Emmys, two Edward R. Murrow Awards and two Gracie Awards. King is now an award-winning classical figurative sculpturist who creates public monuments of black bodies in bronze. She is newly appointed to The Ferris Foundation Board of Directors, a cabinet member of the Jim Crow Museum of Racist Memorabilia Building Campaign and was named a Ferris Distinguished Alumna in 2018.
Shaw earned his associate and bachelor degrees in Heating, Ventilation, Air Conditioning and Refrigeration. A proud veteran, he joined the Ferris faculty after graduation and served for 27 years, with recognition as the Ferris Distinguished Teacher in 1978 and service as HVACR program director beginning in 1985. Upon retirement, he became a national consultant for the HVACR industry, which was recognized by the American "Spirit of Independence Award." In addition, he has established and been instrumental in developing numerous scholarship endowments at Ferris, has served on the Ferris Foundation, including chairing the Foundation Board, was recognized as a Distinguished Alumnus in 2018, and is of the "Now and Always" Campaign Cabinet.