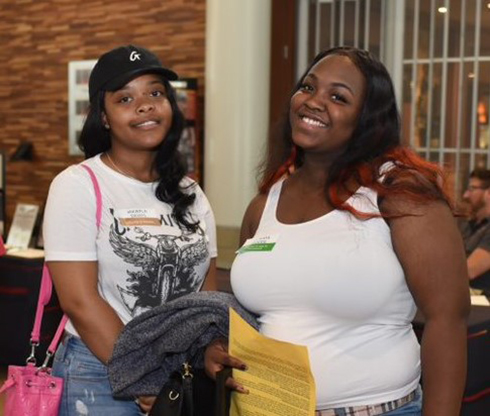 Orientation sessions ahead of the 2022-23 academic year at Ferris State University began Monday, June 13. Incoming first-year students, Janaya Goode and Jakayla Demps, of Detroit, were among those ready to view the campus and continue their onboarding process.
Opportunities to become more familiar with Ferris State University and to prepare for Fall 2022 classes were afforded to nearly 150 registered first-year and transfer students on Monday, June 13. Ferris orientation sessions kicked off as an onboarding experience for incoming students inside the University Center building.
The first of the 14 orientation sessions found Janaya Goode and Jakayla Demps, of Detroit, lined up to learn about securing Bulldog ID cards before moving on to determine their residence hall accommodations as incoming freshmen.
"I was dual-enrolled in the Warren Public Schools," said Goode, a College of Health Professions student preparing to study Nursing. "I was on campus for an Admitted Student Open House a few weeks ago, but I have been anticipating the start of my time at Ferris for a while."
Demps is the first of the children in her immediate family to attend college, though other extended family members have higher education experience and have earned degrees. Jakayla is entering the College of Business to study Criminal Justice.
"I came to the same open house as Janaya," Demps said. "I am looking forward to getting more familiar with the university as we get into our Ferris experience."
Demps also earned credits toward her Ferris education in dual enrollment while in high school. The high school friends were preparing to share a room in a residence hall, an element of the one-day orientation program that allows students to verify their financial aid options and attend a resource fair while meeting with academic department and college representatives.
Director of Orientation Emily Hicks with the Office of Admissions said Monday's visitors numbered around 300, with more than a thousand new students due to take up this process in the next ten weeks.
"Our orientation schedule runs Monday, Tuesday and Thursday for the weeks of June 13, 20, July 11 and 18," Hicks said. "We have taken registration for fall classes out of these sessions to a one-to-one virtual visit ahead of these campus visits."