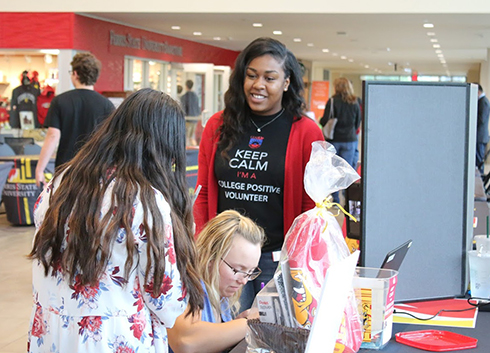 More than 1,000 newly-admitted students, and those transferring to Ferris State University, will attend orientation sessions, which begin on Monday, June 13.
A change is complete for welcoming first-year and transfer Ferris State University students into the Bulldog family. The Office of Admissions and campus partners begin new-student orientation sessions on Monday, June 13.
Ferris will host 14 sessions preparing students for the start of Fall 2022 semester classes and the overall college experience.
Orientation coordinator Emily Hicks said aspects of onboarding students begin before the summer campus visit.
"In the past, we focused on bringing students into their college and department, registering them for their first semester of classes, as an orientation element," Hicks said. "The new format is directed at acclimating the students to the Ferris campus, meeting others coming to the university and completing any financial aid considerations."
The orientation begins during Admitted Student Open Houses, events offered in March and April.
"The turnout for those was great," Hicks said. "We had college and department representatives on hand, and our intent for the open houses was met very successfully."
Throughout May, university staff was active with one-on-one sessions for incoming students to review their intent, options and to set a class schedule for the Fall 2022 semester.
"The early impressions about these changes in our approach have been positive," Hicks said. "Our orientation leaders were active in May, with their training wrapped up Thursday, May 19. We will offer profiles on those leaders through Instagram, so when our new students arrive, there is a certain level of familiarity."
Orientation sessions will run on a Monday-Tuesday-Thursday schedule for the weeks of June 13 and 20, then July 11 and 18. Late orientation sessions are Thursday, Aug. 18, and during Welcome Week on Aug. 25.
"I know that our early sessions are seeing a good deal of interest from these new students," Hicks said. "We have an online chat function on our webpage, or students can email the Admissions office with questions they may have ahead of their visit. They can also call (231) 591-3576."