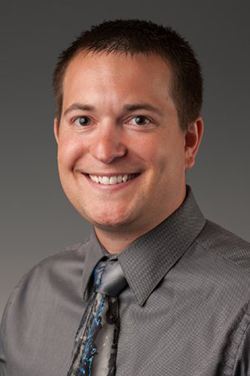 Dr. Chad Rosen

Students in Ferris State University's Michigan College of Optometry and MCO faculty and staff members continue a collaborative learning process through the Vision Research Institute. This collaboration has included a broad range of patient care and product studies since its inception in 2013.
Associate Professor of Optometry Chad Rosen, who earned a Masters of Business Administration from Ferris as part of his post-graduate education, is the director of the VRI. Rosen began as a senior clinical research fellow with the Vision Research Institute as it began, advancing to a role as an assistant professor in 2015, and on to become the institute's director in 2018.
"The institute is an important part of Ferris' intentions to advance research opportunities for the MCO and across the university," Rosen said. "Our work at the VRI is dedicated to creating and developing and testing products and procedures for vision correction. In addition, these studies allow for experiential learning on an international scale, with intentional involvement of our students as part of that process."
Rosen said Pre-Optometry students are welcomed into the VRI's research activities.
"We hope, through work-study opportunities, to build their interest as researchers, beyond their intentions to become practicing optometrists," Rosen said. "They are asked to take up administrative tasks and collect data from research projects."
He added that the roles of MCO students who assist in Vision Research Institute activities are a vital component of the research.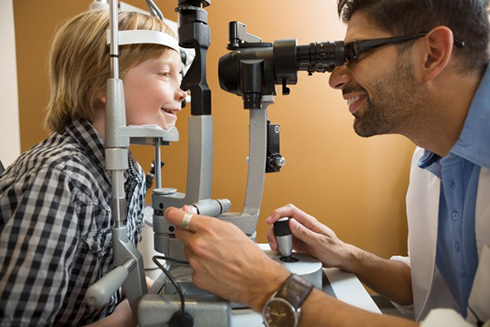 Clinical research activities at Ferris State University's Michigan College of Optometry are conducted at the Vision Research Institute (VRI) which is dedicated to the creation, development and testing of products and procedures for vision correction.

"They create research protocol, taking an active role in the collection, analysis and dissemination of the data produced," Rosen said. "We are willing to consider and explore projects that produce a community benefit in responding to vision-related illness or injuries."
One of the first high-profile research activities for VRI involved Google Glass, or "smart glasses," with the institute receiving an optical head-mounted display unit shortly after their national release.
"We were asked to support testing of video calls, where a Doctor of Optometry would be able to communicate with and screen a patient remotely," Rosen said. "Telemedicine is much more prevalent today, through the use of smartphones, laptops and other communications devices, but the Google Glass served as a notable advance in technology, creating a platform for the smart devices that serve in various roles."
Rosen said many of the research projects that VRI pursues involve contact lens products. The institute recently received an invitation from the U.S. Food and Drug Administration to participate in a trial for a device, along with 17 other locations across the country.
"This is an exciting opportunity for the students, staff and faculty involved with the institute," Rosen said. "Being brought into an FDA study is a testament to our continued success as a base of research, which we hope leads to greater attention for the institute and more invitations of this nature."
Ferris' Optometry program began in 1975 before it was rebranded as the Michigan College of Optometry in 1998. Rosen said as the VRI approaches its 10th anniversary, there is optimism in continued growth for the level of research activity that takes place and the partnerships that can result from these studies.
"The VRI has shown how impactful this testing and analysis can be for the Michigan College of Optometry and Ferris State University, in general," Rosen said. "We are honored to be experiencing opportunities that may typically be offered to research operations at 'P-1' institutions."