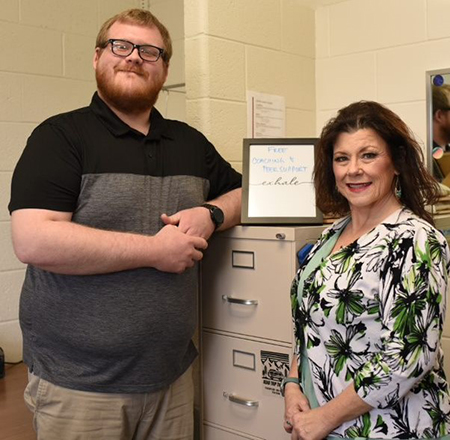 Counseling professionals Scott Winkle and Tammie Fogal are Ten16 Recovery Network's staff serving Ferris State University students who may desire substance abuse counseling or assistance with their recovery.

A pair of counseling professionals stand ready to advance collaboration and communication with students and other Ferris State University-based referrals. The Ten16 Recovery Network supports those seeking to build sobriety while offering them substance misuse prevention programming.
Ferris' Student Life Office contracts with the private nonprofit, providing a space in the Birkam Health Center's Counseling Office for sessions with individuals seeking information on substance misuse and recovery. Site Coordinator Scott Winkle joins outpatient psychologist Tammie Fogal as the Ferris contacts in the Collegiate Recovery, Education and Wellness (CREW) program.
"Our referrals, in a number of cases, have been found to have possessed drugs and include underage students with alcohol, or were determined to be under the influence, in violation of campus rules," Winkle said. "We are here year-round, ready to offer counseling to these students and others who come to us so that they might advance in their recovery.
Winkle added, "We hope to develop group counseling so students can consider their situations, whether they are in recovery or are impacted by the substance misuse of others, in the comfort of this lounge. In our experience, allowing them to address these issues with others their age in similar circumstances helps to build a feeling of community and support."
Winkle said the counselors and the university hope to promote awareness of these facilities, so students consider the lounge a comfortable alternative to social situations where they might struggle.
"Some students find the presence of drugs and alcohol difficult to process as they work toward sobriety or as they continue in recovery," Winkle said. "We want them to see this lounge as a safe, non-judgmental space, where they can escape the scene that may be troubling them and relax."
Ferris and other Mid-Michigan universities have contracted with Ten16 in recent years. Winkle said their agency has enjoyed an ongoing relationship with Student Life. Fogal said students from Ferris, Central Michigan University and Mid-Michigan College include self-referrals, who choose to continue in weekly coaching sessions with a campus coordinator or recovery coaches or take part in weekly meetings with students from each of the schools served.
"This group of students is striving to make better choices for their academic endeavors and health and wellness, Fogal said. "The students are also offered an option to undergo an alcohol or other drug assessment, so they clearly indicate if their patterns of use meet the criteria for a substance use disorder on a mild, moderate or severe level. If a substance use disorder is identified, they can take part in weekly therapy sessions. These sessions help the student develop skills and abilities to get life changes surrounding substance use and address the potential co-occurring mental health issue. It also helps them to meet their academic goals so they may represent Ferris proudly in the workforce."
"We want to create a culture where students understand they can come to us, and want to do so," Winkle said.
The Counseling Office is on the second floor of Birkam Health Center. Winkle is available by email, or by calling (231) 591-3614.