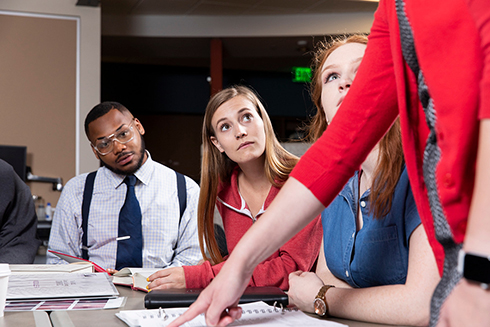 Ferris State University students returned to classes on Monday, Jan. 10 to begin the Spring 2022 semester.
Ferris State University's Spring 2022 semester began Monday, Jan. 10, for classes on the main campus, in Big Rapids, and at Ferris Statewide, Ferris-Grand Rapids and Kendall College of Arts and Design locations.
Provost and Vice President of Academic Affairs Bobby Fleischman encourages faculty, students and staff to continue practicing COVID-19 protocols established with health and safety in mind.
"Classes will be held as scheduled, with face-to-face instruction as the predominant modality for our students' learning," Fleischman said. "We plan to maintain best practices for instruction that we have employed throughout the pandemic while keeping campus safe. We are also thankful for the efforts of our Physical Plant staff and campus community, all of which are dedicated to assuring appropriate safeguards are in place for all students, faculty and other university employees."
Those protocols include the proper use of multi-layer masks, hand washing, use of university self-screening and reporting mechanisms, with collaboration in mind for any exposures that may require contact tracing, quarantine or self-isolation.
There will be a mix of virtual and in-person activities designed to engage new and returning students provided by the Center for Student Involvement, which began their Spring Welcome schedule with a "PB&J Buffet" on Monday, Jan. 10. CSI Activities Coordinator Nick Smith said Ferris hopes to give students opportunities to meet new friends, learn about others and create a fun environment as the academic year resumes.
"We are proud to collaborate with the Anti-Violence Alliance for their 'Cocoa, Cookies and Consent' gathering, beginning Tuesday, Jan 11 on the lower level of the University Center," Smith said. "This 11 a.m. program will be a great chance for students to learn about the alliance's mission and activity schedule."
Students on any Ferris campus are welcome to participate in the "Total Trivia" virtual game show Wednesday, Jan. 12 at 7 p.m. Participants can use their mobile devices on a dedicated platform.
"We are offering this in concert with the Kendall College of Art and Design, welcoming any Ferris Statewide students to try their luck with our questions," Smith said. "Winners can receive cash prizes through PayPal. We believe everyone will enjoy this new event."
A tradition continues for CSI on Saturday, Jan. 22, at 9 p.m. with the University Center Anniversary celebration. Smith said each year, since the 2015 opening of the building, their office has brought in great entertainment options for students.
"We have a large-scale laser tag setup, which will encompass a majority of the UCB ballroom space," Smith said. "There will be a pair of escape rooms available, along with tarot card readers in the concourse and arcade games. We are also glad to welcome John Rush, the "Human iPod," who was a big hit in an appearance earlier in the academic year. Students can pick a song from a number of musical tastes, and Jim can play it with the chance to sing along for those who want to join his act."
Student Activity Fee allocations from the Finance Division of Student Government support many Spring Welcome events. Anyone with a disability who needs accommodations to attend any of these events should contact (231) 591-2606 or email CSI at least 48 hours in advance.